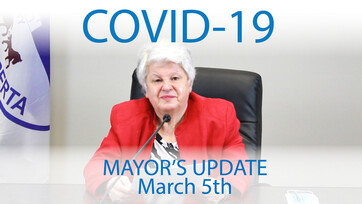 Letter to citizens March 5, 2021
Dear citizens,
Here are some updates regarding Covid-19 and related matter
Since last week, our numbers of active cases has decreased. We presently have 53 active cases for a total of 619 cases since the beginning of the pandemic, a year ago this month. We are encouraged by the high number of recoveries, but are also saddened by this week's new casualty to the disease, bringing our number of deaths to 12 in our health region. Our heartfelt condolences to the family at this difficult time. Our thoughts and prayers are with you.
There has been some discussion about the recent outbreak at the Cardston Hospital. Some of the facts in the media were incorrect. The hospital is dealing with an outbreak of 3 cases. Unfortunately, this also included one fatality. The issue is well contained, and visitation to the hospital has not changed. Please do not fear going to the hospital if you need medical care. The facility continues to be managed in a safe manner for the community.
The weather is improving rapidly, giving us all a desire to start living again and returning to our pre- pandemic activities. Please be prudent and continue to follow AHS guidelines to help us successfully combat the disease. There is much hope for our Canadian and Albertan population. Locally, vaccination is going strong in town and on the reserve.  According to the government release (March 4, 2021), the next population to be vaccinated will be the 65 to 74 age group and the 50 to 64 on the Reserve. Reservations for vaccinations for these age groups will be opened on March 15. Please check the Alberta Health and Blood Tribe Health web sites for more information. This is good news for those who waited eagerly and patiently to be vaccinated. We all look forward to some return to a normal life, travelling and visiting with our loved ones, but for now, let us continue to be vigilant to avoid a third wave of infections in our health region.
Recreation Center
Today is the last day to submit your survey online or to call the Town if you need help with it. We have received some 450 submissions and want to thank all those who took the time to express their opinions. Next week, Council will be debriefed regarding the results of the survey. It is important to note that the results of this Survey cannot be binding on this Council or next council as it is only one facet of a complex decision-making process, however it is also worthwhile noting that this survey and associated comments will be analyzed and taken seriously by members of this Council. Once the results are compiled, we will release them to the public through our website and social media. 
We soon will need to finalize our budgets (capital and operational) and establish our Mill rate. Many items in the budgets, short and long-term, will need to be revisited and priorities re-established. This is something we do every year at this time after the Provincial Budget has been released, and when its financial impact on our Town has been established and communicated to Council by our Finance Department. Decisions on large capital projects require time and prudent analysis of all contributing factors and potential impact on taxes, short and long-term.  Having said this, we appreciate your patience regarding our final decision/recommendation on the proposed Recreation/Community Center. We will keep you posted.
Always at your service.
Mayor Kronen