Official Election Results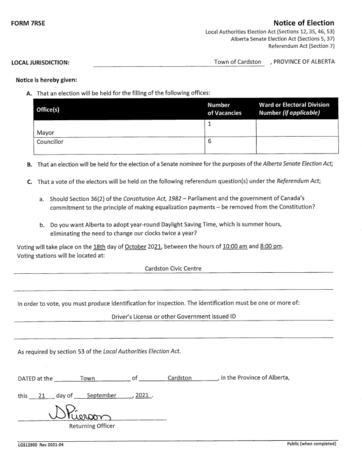 Municipal Election 2021
Election Date:
Monday, October 18th - 10:00 AM to 8:00 PM
Location: Cardston Civic Centre
Advanced polling dates:
Saturday, October 2nd - 3:00 PM to 6:00 PM
Thursday, October 14th - 4:00 PM to 8:00 PM
Location: Cardston Civic Centre front foyer.
List of Candidates
The following is the official nomination list for the 2021 Municipal Election in the Town of Cardston. These are the names that will appear on the ballot for the next Council.
Candidates for Mayor

(3)

KRONEN, Maggie
SELK, Gerry
SPIRIG, Cinda
The maximum number of Candidates that can be voted for Mayor is one (1).
Candidates for  Councillors

(9)

BARNES, Dennis
BROWN, Paula
BURTON, Allan
COURT, Tim
CREED, William (Bill)
GRAINGER, John M.
HASTINGS, Liam Patrick
JENSEN, Marsha
KENLY, Jared
Referendum Questions
Albertans are being asked two questions in the referendum vote on October 18, 2021. Both referendum questions allow for a 'yes' vote or a 'no' vote and are binding on the provincial government, based on the majority of votes cast.
Visit the elections website for more information on the questions: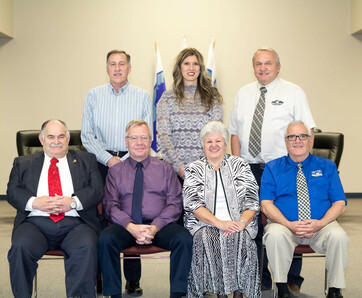 Running For Council
Candidates were able to submit nomination papers as early as January 4, 2021 but must have them in by the September 20 deadline, referred to as nomination day, in order to run in the municipal election.
If you are interested in running for Council, please read A candidates Guide: Running for Municipal Office in Alberta. 
Submit your nomination papers
Nomination papers for mayor, councillor and school board trustees (public and separate) can be submitted to Elections Calgary during the nomination period.
The nomination period is January 4 to noon on September 20, 2021.
All candidates must provide Form 4, Form 5 and the Candidate Contact Information Consent Form completed in full and the appropriate deposit at the Town Office. Candidates may not campaign until after their nomination papers have been submitted.
Forms may be picked up in the Town Office or downloaded online
Candidate deposits
All nominations must be accompanied by the appropriate deposit.
$100 for mayoral candidates and councillors.
Deposit must be in the form of cash, cheque or money order. Do not send cash deposits in the mail.
NOTICE OF NOMINATION DAY
LOCAL JURISDICTION: TOWN OF CARDSTON, PROVINCE OF ALBERTA
Notice is hereby given that Nomination Day is September 20th, 2021 and that nominations for the election of candidates for the following offices will be received at the location of the local jurisdiction office set our below beginning on the 4th day of January, 2021and ending at 12:00 noon on Nomination Day.
| | |
| --- | --- |
| Offices: |  Number of Vacancies: |
| Mayor | 1 |
| Councillor | 6 |
Location (Address) of Local Jurisdiction Office:
67 - 3rd Avenue West
Cardston, Alberta
DATED at the Town of Cardston, in the Province of Alberta, this 8th Day of September, 2021.
S.Pierson
Returning Officer