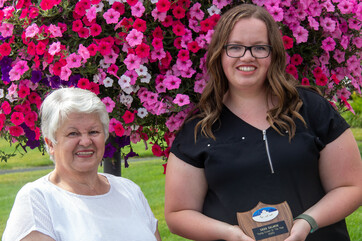 Sara Salmon
cardston.ca/citizen-of-the-year
Sara Salmon is a kind, hardworking, friendly young woman who always strives to be inclusive and make others feel welcome.  Her peers say, "Sara is the nicest person."  Sara graduated this year from Cardston High School.
Sara has been active on two different school student councils and has served as secretary on the Cardston High School student council this past year.  She helped to organize dances, activities, and a "Socktober" fundraising event.  After school she volunteered her time at the Epic Youth Centre, was a mentor to the younger youth, and shared her time with others.
Sara has served as President of her church's youth program caring for many young women and their spiritual well-being.
For the past two years, Sara has worked at the Jim & Mary Kearl Library organizing and conducting the youth activities.  She loves interacting with children and bringing joy to them.
She loves music and was an important part of both the Cardston High School band and drumline.  Sara loved the band and served as secretary of the band council, always making sure to help with set up and take down whenever needed until the COVID-19 pandemic hit.
She has volunteered in the soup kitchen and with WE Charity.
The list of things Sara has "done" is long, but it is who she is that is most notable.  She has a big heart, as big as her smile, and she shares both generously.
Sara has tackled the challenges of this past year in the same way she tackles every challenge – with a graceful determination that is beyond her age.  She models resilience, exudes gratitude, and is full of optimism.
Congratulations Sara!