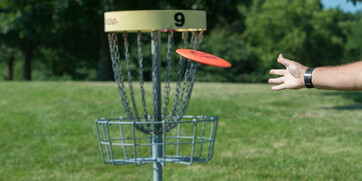 A proposal has been made to the Parks and Recreation Committee to install an 18 hole championship disc golf course in the Lee Creek Valley, at a minimal expense to the Town. 
The Parks and Recreation Committee would like to gauge the public interest in having a championship disc golf course in Cardston. Please use the poll below to vote for your preference, and feel free to use the comment section at the bottom of this page to express your support.
Poll
Have your say! Would you like to see an 18 hole disc golf course in Cardston?
Comments
I am not in favour of this project because of its location first of all, and second why is the town wanting to put money into a project that has already been done here in the past and has failed? Behind the reunion centre there still remains relics of the old frisbee golf course if you need to jog your memory. I will also like to point out that so many " low cost to the town" projects have become costly to maintain especially along the creek as a result of vandalism. Thanks!
I am sorry but I don't quite understand where this course is supposed to be located. I would be against anything that detracts from the walk along Lee Creek. If you are looking for proper feedback, I think a map of where and how much area this course is to take up would help people give a more honest opinion. I have been in areas that have hiking and a disc course intermixed and I did not particularly care for it as I had to stop and wait numerous times for players to make their shots.
It is unclear where the disc golf would go. The paper mentioned Lee Creek Valley, but it isn't clear what that is for me. I walk daily along the Lee Creek path and see numerous song birds, owls, and deer. I love that walk and would not want to lose that. Many people walk their dogs along there, ride their bikes, swim in the creek with the kids, sit on the installed benches to enjoy a rest in nature, etc. So, if the disc golf were anywhere along that pathway, I am completely opposed. In another spot would be a different story, but please don't mess with this pathway.
I am from Magrath but will regularly come out to Cardston with my family and friends to play!! Magrath has had a course for 4 years now and it has been an awesome way for all community members to get outside, enjoy the outdoors, and have a lot of fun together.
There is not enough information given with these poles. If it was put up in an area where it didn't bother anyone then fine some people might enjoy it but if it goes up behind homes who built in the area because they have private back yards then no. I would not be comfortable using it if I felt like I was intruding on someone's back yard. I have seen the flags marking out spaces at the top of the hill behind homes. Keep it in the river bottom or don't do it. I would not be happy if it were put up behind my house and neither would you.
Disc golf is world wide. It's an all ages sport and all levels sport which the entire family could partake in. It's extremely inexpensive to get equipped for beginners and you never really have to put a lot of money into it unless you go pro or get really into it. My entire beginner set for which I don't think I'll ever need more was under $60 including carry bag and shipping. This would be an amazing asset to Cardston.
Minimal expense to the town, a small but positive draw from outside the community that will likely grow through word of mouth and possible private event promotions, an "if you build it they will come" situation, and most importantly, a passionate core group that will use and promote the course. Interest and popularity is increasing, with a growing group of players in Lethbridge who would travel the 45 minutes to play, especially if the course is well-designed and challenging. Seems like an easy decision.
Disc golf is a rising sport that will continue to bring new players each year of all ages. There is great potential for increased revenue from tournaments and players in western Canada that could go into the town of Cardston each spring, summer, and fall. This is great idea, especially "at no great cost".
We just moved to the area. Having been active with disc golf in Edmonton I can see how having a course can bring people into an area. I think disc golf is a fun activity that can be enjoyed by all and I'd be happy to travel out there to play if a course were to be put in! I also know a fair number of people that plan trips around disc golf courses so you could likely get more people bringing money into the community as a result!
Any and all free outdoor activities are good for your community. Disc golf is fun for all types of people ranging from many different skill levels. It can be enjoyed casually or competitively with friends. It's a perfect way to ensure the parks and recreational areas in your town are actually getting used by local residents.
A championship-level course would only be a positive for Cardston. There is minimal upkeep (and associated costs), it facilitates an outdoor/active lifestyle, and it's fun for all skill levels and ages. It is important that the course would be designed by someone with course design experience to ensure a safe layout that is also challenging, unique, and fun.
Disc Golf is the perfect family activity. Our son introduced us to the sport this summer. It has become a great family activity, as all ages and stages can enjoy. We enjoy the Magrath course 2-4 times a week. With only one other course within a 30 minute drive, a course in Cardston would be a definite plus.
The cost required to build the course is tiny compared to the benefits it will bring to the community. Annual upkeep on a disc golf course is also very low. I've never spent any significant time visiting Cardston, but would definitely do so if there was a championship-quality disc golf course there!
I travel all over Alberta and BC to disc golf on a regular basis. If the course is really a high level facility, which still is a minimum expense to the town, I would certainly be excited to come visit your town as well. Please feel free to reach out with any questions about course development or design.
It is a great way for community members to stay active, enjoy the outdoors and socially distance.
Town of Cardston have a real opportunuity to make their citizens proud to have a Championship Disc Golf Course including on that multi-use facilities + just accross of their High School, right in Town, close of the business, camping sites n others attractions. With all those elevations, that Course can be not only funny, but challenging as well. Kind of extension philosophy by beeing neighbor of their Golf Course. If that Disc Golf Course come true, Tournaments will be for sure n will attract so many Disc Golfers from different areas. Hope the best for Cardston ! I am ur 1st supporter, right on the front line, if u need help, u can count on me, I will be one of ur volunteer !
I fully support a championship disc golf course in Cardston. It brings communities together, as well as destination golfers and money into the town. It's a great way to stay active, is a very accessible sport, and one of the, if not the, fastest growing sport in North America. Great idea I hope it goes through!
We enjoy camping with our RV at Lee Creek. To camp there, disc golf there go swimming and then use Cardston as our home base to go to Waterton we would stay longer in Cardston and spend our money there. Please build this course. It is a great activity for all ages.
This is an amazing way to build community & get people of all ages active. Disc golf is also a great way to use existing green spaces in an environmentally responsible way & keeps the community more safe due to increased use by good people. I know many of the Calgary crew and CDGC members would make the trip out to play. Go for it Cardston!
Disc golf is one of, if not THE fastest growing sport in North America right now. A legitimate, proper high end disc golf course would bring people in from all over Alberta. Construction costs are minimal and potential is huge. There is no down side to this.
Disc golf is truly an amazing sport. Low cost, accessible to all, age doesn't matter, fitness doesn't matter, it is a wonderfully inclusive community. It gets people outside, enjoying nature, making friends and provides endless hours of entertainment.
This is a great sport, and we have had many groups come through Pincher Creek to play on our course since completing it this year. You can be sure that we will be out to play when this is complete! The benefits of getting out for a walk to play this game are great at any age.
I am 100% in favour of this idea and not being a resident of Cardston, I would even donate to help build this if required. A disc golf course is one of the best ways to utilize public parks and green spaces. It is a creative way to get people out and moving while often utilizing lower traffic portions of public parks with very low environmental impact. Beyond the logistics, There are countless stories about how finding and embracing disc golf has changed peoples lives for the better.