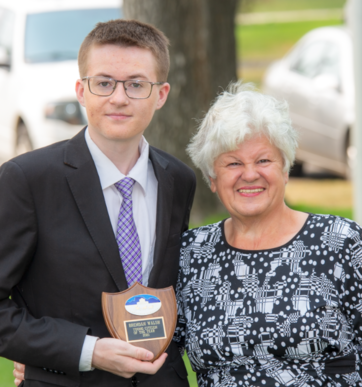 YOUNG CITIZEN OF THE YEAR 2021
cardston.ca/citizen-of-the-year
Brendan Walsh is a generous and concerned young man in our community who loves to be involved in great things! 
He has been involved in several food banks and food pantry projects including helping with food banks in Arizona.  Recently, he has applied that knowledge and experience into helping start and streamlining the community Food Bank at Epic Youth Services.  He created a food inventory and rotation system and has built an ordering app and tracking system. 
He has also been pouring many hours into data entry at the Youth Centre for a new check-in system. 
Brendan's demeanor is a calming influence in all of his work at the Youth Centre.  This summer, he has been investing his time into mentoring at teen summer day camps.  He helps other youth understand and use technology and specializes in teaching young participants how to utilize the programs on the Youth Centre's Virtual Reality.  He has been volunteering at Epic three times a week all year long, even supporting the Covid programming. 
He has such a big heart!  He is always respectful and pleasant to work with.  He volunteers quite often for humanitarian projects and has done a substantial amount of service.
His steadiness & commitment this past year has not gone unnoticed – especially with all the challenges Covid brought.
Congratulations Brendan on being our Young Citizen of the Year!