View All News
Rec Centre Survey & Dog Park Fundraising
February 19 2021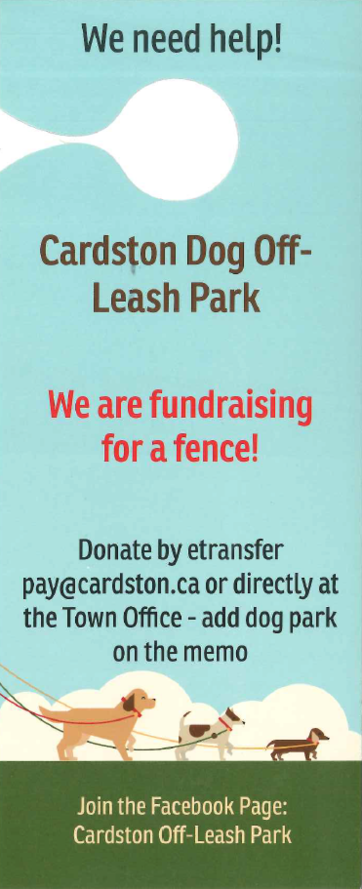 Beginning the week of February 22nd, volunteers from the Cardston Off-leash Dog Park group will be hand delivering two things to virtually every door in Town:
Cardston Recreation Centre Survey
Door Hangers requesting support for fencing for the Cardston Off-Leash Dog Park
Cardston Recreation Centre Survey
The first thing our volunteers will be delivering is a letter from the Town with a unique survey code for the Proposed Recreation Centre.
Town Council is considering building a Recreation Centre where the old EJ Wood School used to be. Council wants input on how to proceed with that initiative, and will be collecting input using a survey on the Town website. The link to the survey, and a unique code to take the survey will be in the letter.  Everyone who receives a letter will be able to take the survey only once. Survey submissions must be received by the end of March 5th. Any questions about the survey may be directed to the Town Office (653-3366).
Off-Leash Dog Park
The other thing the volunteers will be delivering is a door-hanger requesting donations to go towards fencing for a proposed Off-Leash Dog Park.
Council has approved in principle the construction of an off-leash dog park immediately South of the Swimming Pool between the Pool and the walking path, and the dog park group is responsible for raising the funds for the fence. They need to raise another $8,000.00, all donations are eligible for a charitable donation tax receipt. The door hanger provides information on how to donate. 
If you would like to donate to the Dog Park, you may send an e-transfer to pay@cardston.ca and write "Dog Park" in the memo.
Recreation Centre
Conceptual drawings of the currently proposed recreation centre.
Comments
Where the heck is the six question survey ? If you are on the computer you cannot scan anything. Have not found where you enter the code.
I will try to keep my comments specific to the topic in question. However there are a few comments I will make which are not directly related but must be considered since all expenditures come from the same source. 1. Does Council have funds on hand to complete an important project which is only partially completed? It seems a little pre-mature to embark upon another major project while other existing projects and facilities are not complete or have questionable future(s). The projects which are of concern are: Golf Clubhouse and parking lot as well as the Agridome. It should be noted that two facilities are in competition for the same grant: Agridome and Simpson Arena. Further, only the Agridome can accommodate 1000 or more Heritage Days Rodeo fans and other rodeos. Is the Agridome in need of major up-grades? 2. Does Town of Cardston have an employee who is hired to plan and promote events to better utilize all Town recreation facilities? I think it is fair to state that our fine amenities are under-used. To add one more facility makes little sense unless Council is prepared to go to great lengths to maximize what we have. I realize community groups have gone to great lengths to bring events to Cardston. Too often these volunteers simply burn out. I am a firm believer that more events in our facilities(soccer, rink, softball, golf, Powwow) keep our own dollars at home and bring in visitors and participants who spend money here. (food, gas, motels, campground, carriage museum, Theatre). Recreation budget should be more than maintenance and up-keep. Recreation board could broaden their scope and Cardston needs to be much more aggressive. The right person over recreation promoting and planning can be a huge asset. Yes, he/she will come with a price. Let's move Cardston forward with the complete picture in mind.
If the town is paying for a huge expense that the rate payers are going to have to pay for...maybe provide something the town does not already have an abundance of (Gyms) EVER CHURCH HAS ONE! How about improving the walking paths with lighting and more of them that does not cost millions of dollars and you don't have to pay to use it. Until the town is willing to expand on different business to bring people to this town how do they think it is fair to raise everyone's taxes even more for this? We pay more taxes here then any other town we have lived in which were also closer to cities as well as having more variety of business. How much did council spend on engineering for the drawings as well and who is going to pay for this? Once again WE ARE!
Fully support this and hope that it works out because it will be a great addition to the town and give not only younger people something to do but any age group.
I don't see anything here that could not be incorporated in the facilities we already have; such as the ice centre, town hall gymnasium, school basketball courts, etc. I would also not be in favor of a facility that does not include an indoor pool that can be used year-round (possibly enclosing our existing pool). I also feel we need more information on costs and potential tax increases. I logged into this site to complete the survey you want us to complete; where is it?
We totally agree with four of the five comments previously expressed. We don't feel this is the time to consider such a facility, if there ever is a good time, given the size of this community. More information is needed such as: cost of such a center, staffing and maintaining, tax increases on local taxpayers, size of and amenities provided by the facility, and to whom will it cater etc. With the present provincial economic downturn, and Covid in our faces, does this seem like the time to consider such an expense. There are some who live in our community who have to go elsewhere for employment. Cardston has excellent recreational facilites for a town of our size: softball fields, baseball diamond, football field, soccer fields, hockey arena, basketball courts, seasonal swim pool, spray park, playgrounds, indoor rodeo arena with outdoor arena, beautiful golf course, tennis courts and Epic youth center. (have I missed anything?) How many amenities can a small town of 3500 people afford? Don't small towns have difficulty competing with the cities? We have a nicely equipped town already. Let's make the best use of what we have, make adjustments where necessary, and be content with what is affordable. (By the way, where is the survey?) Thank you.