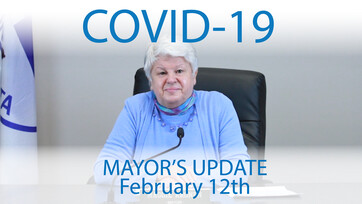 Feb 11, 2021
Letter to citizens,
Dear citizens,
Today I will give you some updates regarding Covid-19  and the reopening of some of our Town facilities.
Covid-19 Update
Our number of active cases is starting to stabilize, and we have seen for the past few weeks a good decline of active cases, provincially and at the local level. Presently, as of Friday February 12, 2021, we have 58 active cases with a total of 522 cases in our Cardston-Kainai Health region since the beginning of the outbreak. We unfortunately added 2 more casualties of Covid 19 since the beginning of this month.  We now have lost a total of 8 people since the onset of the disease. We want to offer our sincere condolences to the families who recently lost a loved one in these difficult circumstances. Our thoughts and prayers are with you.
We appreciate all your efforts in helping flatten the curve of infection in our health region. The schools have done a great job containing the outbreaks. Thank you to all parents for being part of  speeding up our children return to their classrooms and kudos to all our teachers and support staff for adapting quickly to such volatile situations. Congratulations to all our long term  and senior facilities , their staff and residents,  who avoided deadly outbreaks by following difficult protocols. It came at much sacrifice, but lives were spared.  Make no mistakes, we are still on the top of the list with the number of active cases in the Alberta South Region and we have been hit pretty hard  by this second wave when you take a comparative  look at the number of total active cases and total casualties to this disease in the South Zone.
Please remain vigilant to protect yourself, your family, your friends and your community. In all circumstances, keep your social distances, wash and sanitize your hands often, take all precautions when in close contact with others. You do not know who is a carrier and a transmitter. Follow AHS guidelines, including avoiding large gathering, house parties and non-essential travel; staying at home if sick and getting tested if feeling unwell with flue symptoms; wearing a good triple layer mask when  and where necessary and unable to self-distance (you can find info on masks and mask wearing under the AHS Covid-19 guidelines).
In our community, as in many other places in the province and across Canada, there is a mounting level of discontent and frustration in the population that is expressed in protest gathering and individual dissemination of anti Covid-19 information through social media, mass mailings, etc.  It is the right and responsibility of each citizen to assess the source of the information and its content, and to participate or not in public gatherings, or believe or not what is offered on the internet, mail outs and social media.
As Council, we are an a-political body working with the government of the day at all levels. We abide by the laws. Since March of 2020, it has been Council's intent for the Mayor to pass on AHS updates for our region and to communicate AHS guidelines and the Government updates  to fight the pandemic on a regular basis. I have done so in our news releases and will continue to do so in the future.
These past weeks, we have heard directly and indirectly the serious concerns of some of our citizens with AHS and our Government's lingering Covid-19 restrictive measures.  This is also happening in many other municipalities across Alberta as attested by letters or calls we received. This week, on behalf of our citizens, we have sent a letter to our Premier  Mr. Jason Kenney urging him and his government to strike a reasonable balanced approach regarding the implementation of Covid-19 measures and assess their potential negative effects on  the mental health, economic survival and safety of individual Albertans and their families, as well as on the survival of small businesses in our Province.
As the Mayor of this Town, I would urge all those who intend to stage future peaceful and public anti-pandemic measures demonstrations to follow AHS guidelines  when gathering and act responsibly to  avoid being the source of unintended community transmission as well as avoiding the consequences of breaking the law.  Thank you for your understanding and consideration.
Together we can win this Covid-19 battle and hopefully avoid a third wave of more contagious transmission in our health region. We can do it!
Covid-19 and Town owned Sport facilities
We are encouraged by the Government allowing sport facilities to reopen even if under strict protocols. Our children will truly benefit from being able to rejoin their teammates in healthy recreations.
Our Ice rink is now operational and open for ice skating and  hockey. Families will be able to book a block of time at the Ice Rink, a happy news for many in our community especially with family week around the corner.
As well, Gymnastics can resume their activities under specific guidelines.
Before we part, and to all Cardstonites who celebrate the Lunar New Year, Gung Hay Fat Choy!  And to all of you, Happy Valentine and family Day! Please stay healthy, stay safe, stay in touch with your friends and loved ones near and far way, and continue your acts of service and kindness. It will uplift you! Thank you!
It is always a pleasure to serve you.
Mayor Kronen