View All News
Platinum Jubilee Medal Awarded to Town of Cardston Mayor and Peace Officer
February 15 2023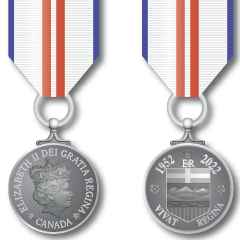 A new commemorative medal was created to mark the 70th anniversary of Her Majesty Queen Elizabeth II's accession to the Throne as Queen of Canada. The Queen Elizabeth II's Platinum Jubilee Medal is a tangible way for Alberta to honour Her Majesty's service to Canada.
The Medal program was part of the Platinum Jubilee year celebrations, organized by the Government of Alberta.
The Queen Elizabeth II's Platinum Jubilee Medal was awarded to 7,000 Albertans throughout 2022 in recognition of significant contributions to the province.
(read more about the Queen's Platinum Jubilee medal | Alberta.ca)
Two of the medals were awarded in the Town of Cardston. The Mayor of Cardston - Maggie Kronen, and the Town Peace Officer - Officer Shawn Lapointe were both nominated for the award and selected as recipients for having made a significant contribution to Canada, Alberta, or to a particular Alberta region or community.
The Mayor was presented her medal at the February 7th Council Committee of the Whole Meeting, and Officer Lapointe was presented his medal at the Alberta Association of Community Peace Officers conference in Jasper National Park.
Queen's Platinum Jubilee medal