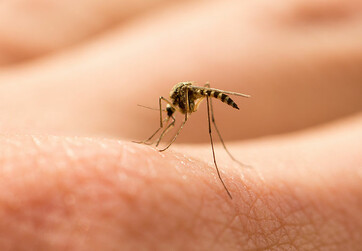 The Town of Cardston has an aggressive mosquito control program. We focus on both larvicide and on adulticide to control populations as much as possible. This notice is to inform the public about the potential health concerns with specific control methods, and provide residents with an opportunity to opt-out of having any chemicals sprayed near their properties.
Larvicide (water treatments) is carried out by adding a chemical to stagnant water supplies that either kills or prevents the maturation of mosquitos in the pupa or larval stage. It is the most effective method of mosquito prevention, since there can be tens of thousands of mosquito larva killed with a single application in a larger body of stagnant water like a pond. Larvicide has been very effective in controlling the mosquito species that lay their eggs in water, there are however other species that make their habitat in piles of decaying plant matter, in tall grass, or other cool damp areas. These mosquito populations are controlled using adulticide.     
Adulticide (spraying or fogging) is much less effective than larvicide. The Town conducts spraying, or fogging, certain areas with a pesticide called Malathion ULV (Ultra Low Volume). Application of Malathion can only occur on days that fall within a certain range of heat, moisture, and wind so the exact day and time of the applications is always uncertain. Further, the malathion dissipates quite rapidly and only affects those mosquitos it comes into direct contact with. So while fogging may appear more effective than larvicide, only a small portion of the Town can be fogged, and it generally kills only a fraction of the number of mosquitos.
We encourage all Town residents to educate themselves regarding Malathion ULV in preparation for summertime application so that all residents and households in Town can keep themselves safe while spraying is ongoing. We have assembled a short list of government prepared documents that explain how Malathion works, the potential dangers to humans, and how to stay safe.
To ensure your health and that of your family, please stay away from the applicator while fogging is taking place. If you have respiratory problems, allergies, small children, or if you are pregnant or nursing please stay inside with the windows closed and the A/C shut off to avoid breathing in the airborne pesticide. If you are concerned about Malathion ULV fogging near your residence, please submit your concern to the Town at info@cardston.ca.