View All News
Media Release - Cardston Receives Parks Revitalization Grant
December 9 2022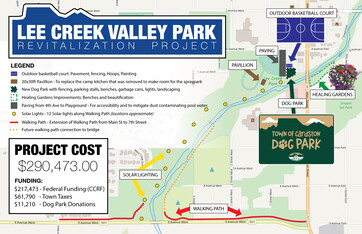 The Town of Cardston receives support through the Canada Community Revitalization Fund for improvements to the Lee Creek Valley Park
The Town of Cardston is proceeding with the revitalization of Lee Creek Valley Park thanks in part to federal funding through the Canada Community Revitalization Fund (CCRF).
During the summer of 2022, the Town of Cardston was advised that its application for CCRF funding had been successful and a federal investment of up to $217,473 had been granted towards a proposed $290,473 Lee Creek Valley Park revitalization project.
The CCRF is a two-year $500 million national infrastructure program to support communities across the country with projects that revitalize downtown cores and main streets, reinvent outdoor spaces, create green infrastructure and address accessibility of community space. PrairiesCan is administering the CCRF in Alberta.
"On behalf of the Town of Cardston and as the Mayor of Cardston speaking for our Town Council and all our citizens, I am extremely grateful for the successful application of our grant with CCFR. This government funding will allow us to beautify our Town and to make more spaces available for those who enjoy the outdoors and who want to find a quiet place to reflect and meditate. Thank you! (Mayor Maggie Kronen)"
The scope of the project includes a dog park by the Main Street Bridge, which includes fencing, benches, garbage cans and signs; an outdoor basketball court to the South of the swimming pool; solar lighting along the nature trail by the creek; benches, lighting and beautification at the new Healing Gardens; paving from 4th Avenue by the pool down past the dog park to the Rotary Playground; and an extension of the nature trail that will connect Main Street to 7th Street.
"Our government is continuing to partner with communities to create modern and inviting gathering places through the Canada Community Revitalization Fund," said the Honourable Dan Vandal, Minister for PrairiesCan. "Our investment in the revitalizing of Lee Creek Valley Park in Cardston will create an inclusive and accessible community recreational hub where residents and visitors alike can connect and enjoy the outdoors."
"Open spaces, recreational amenities and accessible gathering places are at the heart of communities across Alberta," said George Chahal, Member of Parliament for Calgary Skyview. "This investment will provide families in Cardston with inclusive and accessible opportunities for active, healthy living, and contribute to the quality of life of this vibrant community for years to come."
The Town will contribute the remaining 25 per cent of the project and has received $11,210 in donations for the dog park. The project is scheduled to be completed no later than March 31, 2023.
For more information, contact the Town office at 403-653-3366