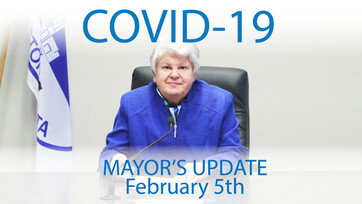 Feb 5, 2021
Dear Citizens,
Today, I will give you an update on the Covid-19 situation in our health region and on the Community Rec Center File
Covid-19 in our health region
I am pleased to report that the number of active cases in our health region that covers the Reserve, the Town of Cardston and the Cardston County are way down from my last update. As of today Feb 5, 2021, we have 70 active cases, and unfortunately we had one more casualty. Sincere condolences to the families affected. 
Thank you to all for having taken some precautionary measures to flatten the curb of the second wave of Covid-19 in our health region. We need to continue to be vigilant as some outbreaks have been reported in our Junior High and Elementary School. Many young people are in quarantine while a few of their peers are sick with the disease. We wish those affected in our region a strong recovery.  To those in quarantine, without symptoms, we appreciate your patience in these difficult times in isolation.  Better days are ahead, this is our hope for you.
So to all of us, let's continue to protect ourselves and those around us by washing and sanitizing our hands, keeping our distances to avoid contamination person to person and wearing a mask when unable to self-distance, avoiding large gatherings and parties. These are the AHS guidelines.
Together, we can make a difference with hope for a brighter and more normal future. To all those on the frontline who keep our citizens safe and healthy  in these difficult circumstances, thank you for your selfless services. And to all our businesses in town, thank you for taking risks day after day  during this pandemic to afford us  the  ability to shop in town.
Proposed Recreation Facility
Covid-19 has changed the way we intended to communicate and interact  with the public regarding the proposed idea of a recreation/community center. We cannot have an open house, and Council has decided to have a survey delivered to each household and business owner.  It will only allow for one response per household, hopefully representative of their views regarding this capital project.
Each household will soon receive a short-questionnaire to gage the appetite of our citizens and businesses to support a new Community recreation Center in Town. It is comprised of a short preamble that explains that the Town has set aside $1 Million Dollars towards this potential future project, it also gives a list of potential uses for this facility and ask you to answer 6 short questions.
This survey is intended to inform Council on the  level of support of the citizens/taxpayers for such capital project. It will also help Council  understand what  taxpayers are willing to commit in increased tax funding for the yearly operation of such facility  and if so at which level.  
I cannot stress enough how important this survey is, even if imperfect.  On behalf of Council, I encourage all of you who receive this survey to take 10 minutes of your time to complete it as it will have an important influence on Council's decision.  More information and support will be shared prior to the distribution of the survey. By way of information,  please note that as of now Council does not have a final cost figure for such facility although some estimates scenarios were presented to Council in January. These estimates can be vary depending on fundraising results and levels of financial support for operation by the taxpayer.
 As  I have been made aware of some incorrect information currently being circulated in town, such as "the Town has committed full support for this facility, there will be no tax impact",  please note that Council has only approved this project in principle, meaning that Council requires  a lot more financial certainty from the donors, and stakeholders prior to starting the  tendering process; as well Council needs to know if the citizens of this town are willing to pay for the yearly operation of the facility. These facts  have been reiterated and agreed upon  at the Council table at the last Council Meeting on January 26, 2021. We are all anxiously waiting for the Provincial Budget to be released at the end of this month to understand its impact on our local capital and operational budgets as it may impact Council decision making  prior to setting the mill rate. Keep posted.
This is all for now. Always at your service
Mayor Kronen
Comments
Hello, I am wondering why there would be no indoor swimming pool in a recreation centre? There are many parents with young children who can only teach their children how to swim for 2-3 months a year unless they travel. The out door swimming pool is amazing, but it is also amazingly busy; which as a mother to 2 children under 4, is too busy for them to learn or have fun with the current schedule. There is also not much time for young children to enjoy the outdoor pool between it being to hot from the sun for their bodies or to cold many of times I've taken my then 2 year old out the pool with bright blue lips and shivering in my arms. The outdoor pool is great for facilitating the older children who can moderate there temperatures well but not so much for young children. I may be the only person to voice this opinion, however I truly believe others would agree with me if presented with the option. There are many benefits for babies to be in a pool but yet there are no facilities for them here in town. Should we not be focused on all generations and their needs? For this reason you will not have our support in the survey Many thanks, The Shipley's