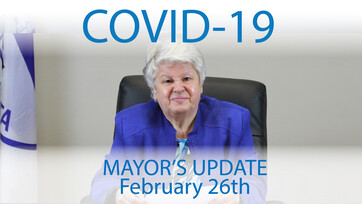 Feb 26, 2021
Dear citizens,
Today, I will give you an update on the Covid-19 situation and on the Survey.
Covid-19  update
Our numbers for the Cardston-Kainai Health region are on the rise since I spoke with you a week ago. As of Friday, Feb 26, we have 64 active cases for a total of 595 cases since Covid-19 started almost a year ago.  We sadly need to report one more casualty this past week to this dreaded disease, bringing our total number of deaths to 10 for our health region. Our sincere condolences to the family affected at this difficult time in your lives. Our thoughts and prayers are with you.
Please continue to follow AHS guidelines to protect yourself, your family, your friends and co-workers and your community. This disease is taking a huge toll on us all. So take time to stay connected with friends and loved ones and extend acts of kindness around you. It is uplifting and good therapy. Enjoy the outdoors when you can and seek out a new hobby or activities to change your mind.
On a positive note, all those over 75 in our community can now be vaccinated at the Alberta Health Unit in Cardston. An appointment can be made online or by phoning 811. You can also search for "Alberta health services vaccination" on your computer to get to the online booking page.  Take advantage of this opportunity if you feel the vaccine could make you feel less fearful of the disease.
On another topic: The Survey for the New rec Center
The survey has been distributed to 1526 households and businesses to obtain some sense of direction from our citizens and business owners in this community regarding the proposed 19,000 square feet Recreation/Community Center.  As of today, Friday, February 26, we have received some 300 responses.  Thank you to all who took the time to express their opinion on the matter. We encourage all of you to take time to fill this survey. The deadline will be Friday, March 5 at 4:30 and no later. 
Take time to read the letter you received at your door. It will walk you through the steps and options to access the survey.
If you have a computer, you simply need to type the link you received in your letter in the address bar of your browser, and if you are having difficulties accessing the survey, call the town and you will receive the help you need. If the lines are busy, call a bit later, but do not give up.
If doing the survey online is not an option for you, or is frustrating you, please use the following options:  1) Call the Town and have a form delivered to your door; or 2) Come to the Town and obtain a copy for this survey; or 3) Call the Town and they can fill your answers for you on the phone.
In all cases you will need the unique code given to you.  You can only vote once. 
In the eventuality that you have not received your survey at your door, or if the wind has blown the envelope away before you had a chance to retrieve it, please call the Town on Monday, March 1. The Town will walk you through the process to allow you to fill the survey.
We need to hear from as many households as possible on the matter to understand the specific needs of our population regarding Recreation activities and programs. Council needs to understand the level of commitment for a new recreation complex, and of the level of tax support to operate such infrastructure on an annual basis.
As Council, we count on your input. Every household needs to be heard.
Stay healthy, stay safe!
Always at your service,
Mayor Kronen