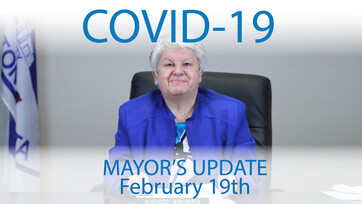 February 19, 2021
Dear citizens,
Today, I will give you an update on the Covid-19 situation in our health region and on a related topic.
A week ago, I reported a sharp decline in Covid-19 cases in our health region. As of today, Friday 19, 2021, we have 56 active cases in the Cardston-Kainai region, the same as last week with a total of 557 cases since the beginning of the pandemic. If the number of active cases has remained stable, It is however with much regret that we need to report the passing of 2 more patients from our health region due to Covid-19. Our sincere condolences to the families affected. Our thoughts and prayers are with you.
Students who were  sick or in quarantine have now recovered and are back in school. For this we greatly rejoice!  To all, please continue to follow good health and social practices to combat the negative effects of this virus in our families, our circles of friends, our workplaces, and our communities. AHS guidelines are still the same to keep us healthy and to stop the spread of the virus due to community transmission.  Frequent hand washing and sanitizing, social distancing and proper mask wearing when and where needed or necessary, avoiding large gathering and/or parties, staying at home when sick, getting tested when feeling unwell with flue like symptoms and avoiding nonessential travels. Our collective efforts will bare positive results in days and weeks to come. Yes, our patience is being sorely tested, but we need to continue to be diligent and keep our hopes high.  Let us also remember those important acts of kindness that will help brighten the day and lives of our elderlies, our shut-ins, and those lonely in our neighborhoods. Together we can make a worthwhile difference!
Covid-19 and related matter
Last week I mentioned that a survey was going to be distributed to each household in town regarding the potential Rec/Community Center.  You should be receiving this survey in the coming days. It will be delivered at your doorstep. Keep an eye for a white envelop and take a few minutes of your day to respond to the 6 given questions. This is not a thorough survey, but it will offer an important sense of the appetite of this community for a significant capital project.
This past week, it has come to my attention that more interesting facts are being propagated on Social Media. It is unfortunate, because what is being offered has not been reviewed or approved by Council.
Here are facts:
Yearly Operational Costs for the proposed facility
Social Media Posts would have you believe that Council endorsed the cost of $10 per month per taxpayer to operate the proposed facility.  While this may end up being the case for some, I am not comfortable saying that this is the case for any or all. The reasons are as follows:
Council has not yet received nor discussed yearly operational costs for the facility as the size and usage of the facility are not yet determined nor known, therefore the need for a survey to understand what taxpayers desire for their community and what they may be willing to pay in added yearly taxes to operate the facility.
Furthermore, posts keep on portraying Council has not willing to give the project a green light. This is a multimillion dollars venture. Should Council blindly give a green light to such capital expenditure? This is asking council to become fiscally irresponsible and to reject principles of transparency and accountability. Around the table, we may have some differences of opinions regarding this project, which is perfectly normal, but I can tell you that  Council is united  on the following:  No shovel in the ground until this project is fully funded upfront  and only if taxpayers want such infrastructure and if they are willing to pay taxes to operate such facility on a yearly basis.
Thirdly, Council does not yet know the final capital costs for this facility nor the final scope of such infrastructure. We were given by the Hasegawa Engineering firm some preliminary cost estimates for a 19,000 square feet facility at the January 26, 2021 Council Meeting. These were partially based on the infusion of donated volunteer work and did not reflect the actual industry rates for electrical or mechanical, nor for the full cost of site preparation. These costs estimates  were  for a proposed facility intended to be a recreation facility with volley ball courts, pickle ball courts, tennis court and an inside walking path, no visitor gallery and based on a 100 people occupancy capacity. The designs were based on information provided to the engineering firm by the Pickle Ball Association who champions this project.
If you desire further information on the engineering report to Council, designs, and preliminary cost estimates, please contact Mr. Jeff Shaw, our Chief Administrative Officer at 403 653 3366.
Since this January presentation to Council, the Pickle Ball Association has enlarged their vison for the use of this proposed facility moving from a recreation center to a community/ event center. Due to this latest change in scope and usage, engineering design modifications and upgrades would need to be made to the original drawings to reflect the potential significant increase in occupancy  capacity and to comply with construction codes. Posts on Social Media seem to offer an open ended possibility of uses to be accommodated in this facility. Every change in use may require further changes in designs and revision of cost estimates for the facility.  
Council needs to see the results of the Survey before taking the next step.
The Survey  will give Council an indication of people support for such large capital expenditure; it will highlight the desired uses for this facility; it will give an indication of yearly tax increases the taxpayer may be willing to contribute to operate such facility on a yearly basis.
The survey is an imperfect instrument because it does not give the taxpayer the full financial picture regarding this facility, nor the short term or long term impact on budgets and future taxation. As imperfect as it might be, this survey is still an adequate instrument to inform Council. Please take it seriously, fill it and return it.  During this Covid-19 pandemic, and at a time when we cannot meet in person for an open house, we need to hear your opinion and your voices through this survey.  Thank you!
Comments
Thank you for the detailed information regarding the COVID-19 situation in our area, and also the discussion over the proposed recreation facility for Cardston. Council's transparency on these two issues is very much appreciated.
I would really like to see this building take place. I am a overweight senior that would really benefit from using this facility. I exercise by riding my bike. This winter has made it difficult to exercise regularly. This building would allow me to walk or play a sport.