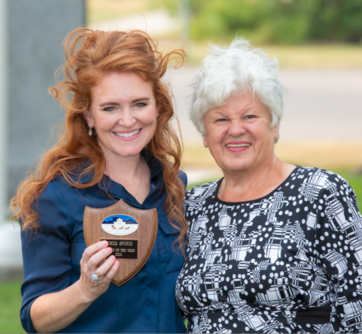 CITIZEN OF THE YEAR 2021
cardston.ca/citizen-of-the-year
Cinda Spirig is amazing!  She is an individual who strives for the best in everything she does and then goes even further. 
Cinda moved here with her family after fleeing from Fort McMurray during the 2016 fire that consumed their home.  Immediately after arriving, she opened Touche Salon and instantly began serving in the community.
She joined the Cardston & District Chamber of Commerce that year and became President in January 2017.  She served in that role for the next 3 years; leading the Chamber through transition, rebranding, and rebuilding.  She was instrumental in re-energizing our downtown business core and bringing new initiatives forward to enhance our Chamber of Commerce.  She has poured every ounce of passion she has this year and in years past towards bettering our businesses and our community as a whole.
This last year, right before Covid hit, Cinda was recognized and honoured in Toronto as one of the country's top female entrepreneurs.  We couldn't be more honoured to have such an established business owner in our midst.  She has brought national recognition to our town through her business efforts.
Despite her tenure on the Chamber, and her service through her business, Cinda serves on numerous other boards and committees.  She is the current serving President of the Cardston High School Parent Council, the President of the Blue & White Club, and she is currently serving on the Town of Cardston's Economic Development Board.  Her amazing ideas and strong leadership are still being showcased in new endevours.  She was the driving force behind decorating the Main Street light standards as candy canes with husband, Harum, installing the lights.  She helped our High School parents and students through a tumultuous and wild year as they navigated through a pandemic year fueled with quarantines and shut downs.  Despite that she decorated the High School cafeteria to welcome the students back and helped plan a fabulous graduation for our graduates that a lot of other communities around weren't able to enjoy.  We thank her for being apart of the driving force.
Cinda is an inspirational role model for our youth, showing them that despite tremendous loss, you can be a phoenix – rising from those ashes to overcome and be something greater. 
Cinda constantly goes out of her way to serve and support our wonderful community.  Whether by donating proceeds from her local business to help our youth teams, or by starting new community projects to help grow our economic development, or by helping our school and students; her support and love for our business and community sectors is infectious.  You can see her leadership, hardwork, and passion paying off in the community.
She is a great leader and someone who makes our community a better place to live.
Congratulations Cinda for being our Citizen of the Year!