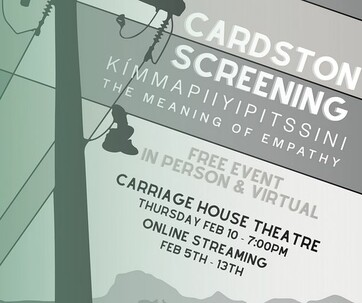 From: westwind.ab.ca
In partnership with the Town of Cardston, Westwind School Division invites community members to a free screening of the award-winning documentary Kímmapiiyipitssini: The Meaning of Empathy on Thursday, February 10 at 7:00 p.m. at the Carriage House Theatre*. Online streaming options are also available.
This powerful film, written and directed by Elle–Máijá Tailfeathers, is an intimate portrait of survival, love and the collective work of healing in the Kainai First Nation in Southern Alberta, a Blackfoot community facing the impacts of substance use and a drug-poisoning epidemic.
Kímmapiiyipitssini: The Meaning of Empathy draws a connecting line between the effects of colonial violence on Blackfoot land and people and the ongoing substance-use crisis and invites viewers to be a part of this remarkable change within the community.
Online streaming of this film will be available from February 5-13, 2022. Register HERE.
*This venue is subject to the Restrictions Exemption Program (REP) requirements, and attendees must provide proof of vaccination or a negative test result to attend.
Info about the film: Kimmapiiyipitssini: The Meaning of Empathy (National Film Board Website)