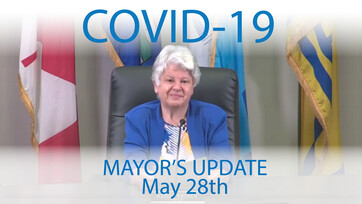 May 28, 2021 Letter to citizens
Dear citizens,
Today, I will give you an update on the Covid situation in our area and address other related matters.
Covid update and related issues
Since our last release two weeks ago, number of active cases have ebbed and flowed. As of Friday May 28th, 2021 we have 39 active cases, for a total of 1021 cases since the beginning of the pandemic. Unfortunately, we had one more fatality to this disease bringing the total of deaths to 17.  We are indeed saddened by this loss of life to the disease and offer our sincere condolences to the family.
As you may have heard on the news, Premier Jason Kenney has laid out a three phases  plan for reopening the economy, however, it all hinges on the rate of total vaccinations from 12 years and up and on the rate of hospitalization.  You can find all the details on the Alberta.ca website.  What is important for us to understand is the connection between total vaccinations to reach herd immunity and the lifting of restrictions and the reintroducing of freedoms at the business and personal levels.
So, what does it look like in our Kainai-Cardston county Health region? The Alberta Health site shows a rate of vaccination of 39% at this time in comparison to 51% overall in Alberta. As you can see, there is much room for improvement. To all those who have being vaccinated, thank you for doing your part towards the future loosening of Covid restrictions. To those who have not been vaccinated, we encourage you to talk to your physician if you have concerns, or to take the time to make an appointment if your schedule did not permit it up to now. Vaccination needs to become an item of priority in our lives and in our Health region. Together we can do it and go back to a full normal life before schools start again.  Right now, herd immunity requires that we reach a minimum of 70% of vaccination for the eligible population, 12 and up. We are not there yet! But we could easily reach this threshold because vaccine doses in our area are indeed available at the Cardston clinic, at the Public Health office at the Court house, at our local pharmacies.
Border Crossing Clinic potential reopening.
Many of you took advantage of the Montana Crossing Covid vaccination clinic held by the Black Feet Confederacy. It is with frustration and disbelief that you heard the news of the closing of this facility by the Federal Government. Council has asked administration to communicate with MP Motz regarding the matter and express our disappointment. Many in our community, myself included, took advantage of this facility when second doses were not available in our area. We were most grateful for the opportunity and sent a letter of thanks to all parties involved for allowing such clinic to take place at our border.  It appears that there has been enough backlash for the  Federal Government to talk about reopening the border to the clinic to resume on June 8 and 9, except that the waiver of the quarantine upon return to Canada as yet to be resolved to make the trip worthwhile.  Keep posted!
Summer activities in Town.
If vaccinations levels drastically improve in June, Premier Kenney feels confident that Summer activities including large number of the population could happen. It is encouraging, but once again we need to see the evidence of the number of vaccinations going up in our health region to not risk further spread of the disease. Council and administration will address this issue at our next Council meeting, as we need a safe plan to enjoy all of our July and August activities in Town.  Council has appointed Cllr Brown and Cllr Court on the Summer Activity committee to give our citizens something to look forward to this Summer.  So keep on the look out for updates on this matter.
Safety and Security
The warmer weather is at our door step. Please review with your family how best to protect and secure your property and not become the victim of crime of opportunity. If you need some information on the matter, please contact the RCMP at the local detachment.
Always at your service,
Mayor Kronen