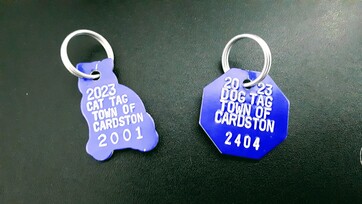 New tags for 2023 are now available at the Town Office. Invoices will be sent out this year for all registered pets in Town, if you no longer have a pet as of this past year, please contact the Town Office and update your information. 
All cats and dogs in the Town of Cardston are required to be licensed as per the Town of Cardston Animal Bylaw, regardless of whether or not they go outside. If you have a cat or dog in town for more than 2 weeks, it must be registered. 
Cost of registration is $15/year for cats and $25/year for dogs that are spayed or neutered. Tags are an additional $15 if your animal is unaltered, and a $10 penalty is applied to all costs on February 1st.