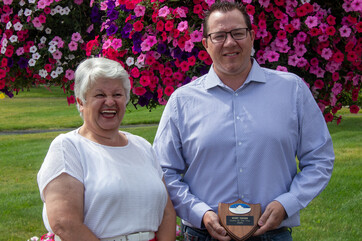 Ricky Thesen
cardston.ca/citizen-of-the-year
Ricky is a friend to all who know him.  He goes out of his way on a continual basis to serve people and organizations in Cardston.  Anybody who asks for his help on a personal level or on a professional level is met with the same willing attitude.
Ricky strongly believes in building and supporting the community.  He can always be counted on to support the needs of the community and he goes above and beyond his call of duty as Manager at Extra Foods to provide organizations and programs with cash donations and in-kind donations and to give of his time as a volunteer.
This year, Ricky has been a Champion for the Epic Youth Centre.  Not only has he donated his time as a volunteer, but he was also instrumental in the donations of thousands of dollars to the Centre for their programming and supporting the after-school snack programs.
Ricky partnered with the Youth Centre during the early stages of the COVID-19 pandemic in helping establish and operate Cardston's own food bank.  He personally saw to it that budget from his business was directed to this effort and also partnered to make sure that ongoing donations were available. 
Ricky has also been instrumental in providing food for search and rescue teams through his business as well as with Cardston Victim Services.  The last couple of months, the community witnessed heart wrenching circumstances of missing youth and a child.  Without hesitation, Ricky was right there and went out of his way to ensure Victim Services and the rescue teams had all the supplies they needed. 
Ricky has a soul of a Good Samaritan.  Back in June when a business' flowers were destroyed by vandals, Ricky personally purchased new flower baskets for the business.
Other notable contributions are:
Serving the Moses Lake Community and helping for their meals and Christmas events.
Serving in various community non-profit organizations and with the Kinsmen Club.
Ricky is positive in his energy to build the community and he is the epitome of what a great citizen should be.
Congratulations Ricky!