View All News
Town of Cardston Development Request for Proposal - EJ Wood Lot
April 12 2022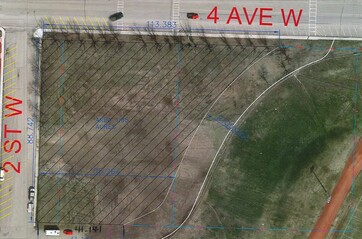 This Request for Proposal (the "RFP") is issued by the Town of Cardston (the "Town"). The purpose of this RFP is to invite interested parties to indicate their interest in, and their qualifications for a development on Town owned property located at the corner of 4th Avenue West and 2nd Street West locally known as the E. J. Wood property (Lot 1 and 1A, Block 5, Plan 1793E & the developable northwestern portion of Lot 2, Block 4, Plan 1793E subject to subdivision). There is approximately 72,100 sq. ft. of developable area. Town Council is requesting a minimum 14 meter setback be maintained from the hill escarpment to mitigate hill slipping and to accommodate event parking. The proponent is not required to purchase the entire developable parcel. Council may accept proposals for a smaller parcel size.
Based on responses, the Town expects to identify, in accordance with the term of this RFP, a successful developer to construct the development.
The purpose of the Competitive Selection Process is to identify a qualified entity with whom the Town may enter into an agreement to purchase Town owned land for the purposes of financing, constructing, operating, and maintaining a development of which scope and design are satisfactory to the present Town Council. Whereas the land proposed is owned by the Town of Cardston and as such Mayor and Council have an interest to ensure that the land is sold for its best use and benefit, the Mayor and Council wish to have direction and discretion concerning disposal of the parcel via the request for proposal process. The Town Council's request for proposal is for a moderate development density and that the project is of acceptable assessment value. The Town is seeking a proposals of medium to dense residential development conforming to the R4 – Medium Density Residential Zone. (Details are enclosed in the package). The Town may entertain proposals requiring different zoning or also entertain proposals of a different use than described above if the development can show benefit to the community.
This RFP is not a tender or an offer, and the Town is not obligated to accept an offer by issuing this RFP.
Any interested party, or parties, may submit a response to this RFP. Respondents may, subject to the terms of this RFP, include individuals, corporations, joint ventures, partnerships, or any other entities.
The Qualification selection committee shall consist of the Mayor and Council of the Town of Cardston.
All interested parties shall pick up an information package from the Town of Cardston office.
The RFP document is to be addressed to the Town of Cardston Mayor and Council and shall contain the following:
Name(s) and address(es) of interested parties including company names that said person(s) may operate under.
Amount of offer for land purchase. Reserve price is $135,000.00 for the total developable parcel (72,100 sq ft). The proponent may submit a price relative to the size of parcel requested. Subdivision and rezoning will be completed by the Town prior to transfer.
Curriculum Vitae of proposed project principals.
Development specific details including


Building conceptual design with color elevation renderings
Confirmation of financial readiness
Readiness and project timeline for design and construction
Summary of facility construction materials, amenities, lease, rent or purchase plans
Traffic and parking plan, Council requests traffic to enter and exit from 2nd St. West and /or 5th Ave. West, and not from 4th Ave. West).
Preliminary storm water management site plan. Storm water must not go east toward escarpment of the hill.
Estimated resale price per unit.
Estimated local economic benefit.

Planned marketing initiative including target market and any involved marketing firms
All parties interested in putting forward an RFP, shall first review the Geotechnical Evaluation prepared by EBA Engineering regarding hill stability, setback requirements, and development requirements to ensure long term stability of the adjacent hillside. The successful applicant must undertake thorough engineering to ensure that the proposed development is suitable for the area prior to construction.
All information related to the parcel of land including dimensions, utilities, roads etc. will be included in this RFP document. The documents are for conceptual reference only and are not to be interpreted as engineered construction documents. Any further information requests shall be directed to:
Nolan Card
Development Officer
Town of Cardston
67, 3rd Ave. West
Cardston, AB
T0K 0K0
P: 403-653-3366
F: 403-653-2499
E: nolan@cardston.ca
Timeline for the RFP process shall be as follows:
April 11, 2022 - Advertise Request for Proposal
May 20, 2022 – Deadline of 12:00 pm for all submissions to the Town of Cardston Office.
RFP submissions will not be made public and will be considered to be confidential documents.