View All News
Town of Cardston awarded "Dedicated Senior Team Award" at AUMA convention
November 30 2021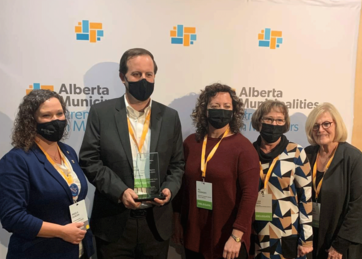 AUMA/SLGM Dedicated Senior Team Award
Each year at the Alberta Urban Municipalities Association (AUMA) Annual Convention, outstanding municipal professionals from across Alberta are recognised for their collaboration, dedication and commitment to excellence.
"Alberta municipalities should be proud of their outstanding professionals," says AUMA Interim President Angela Duncan. "We were once again impressed with the calibre of our award recipients. These exceptional examples of municipal leadership, collaboration, and team unity exemplify how, together, we can build strong Alberta communities."
At the AUMA Convention held in Edmonton this year from November 17th-19th, the senior leadership team of the Town of Cardston was awarded the AUMA/SLGM Dedicated Senior Team Award, which recognizes an outstanding municipal team that demonstrates service excellence and dedication to municipal government.
The Town's leadership team was nominated by the Town Council based on their work in the following areas:
Leadership - administration, council, community
Policy development
Council relations
Human resources
Financial management
Long Term Strategic Planning
Project planning and implementation
A panel from AUMA reviewed nominations submitted by multiple municipalities from across Alberta, and selected Cardston as the recipient of this award.