View All News
PUBLIC NOTICE: MOTORIZED VEHICLES PROHIBITED ON NATURE TRAIL
June 19 2023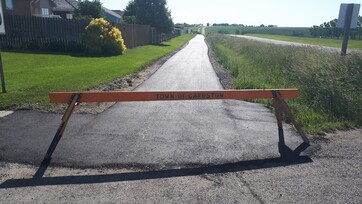 The Town was the recipient of a government grant for multiple improvements in the Lee Creek Valley Park, including a paved nature trail that extends from Main Street to 7th Street West. This trail is not yet completed, but some individuals have already begun to abuse it by driving their vehicles on the newly paved surface, including the portion down the hill. This trail is not rated for vehicular use, particularly on the hill that has a history of instability and is anticipated to experience more movement in the future. 
Unauthorized operation of motorized vehicles in any public park is prohibited, this includes the paths and nature trails. Considering the investment made into this new trail the Town will be taking a strong stance against people illegally driving in the parks which has the potential to damage the trail. The town is installing cameras, and anyone caught operating a motorized vehicle on the nature trail on in any park space will be prosecuted and fined by the town. 
If you observe anyone driving in the park, you may use the online form on the Municipal Enforcement Webpage and upload a photo to report them: https://www.cardston.ca/government/municipal-enforcement/complaints.