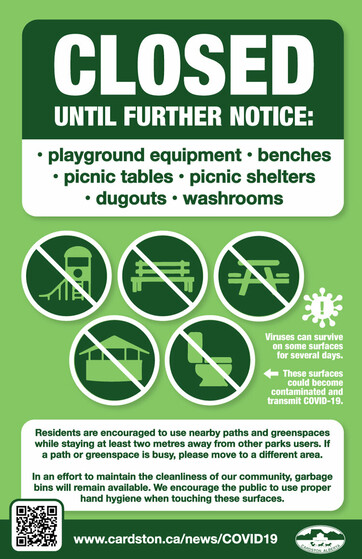 Effective immediately, all parks equipment are closed until further notice. This includes:
benches

picnic tables

picnic shelters

ballpark dugouts

and public washrooms
The reason for the closure is to help prevent the spread of COVID-19 if and when it is introduced into Cardston. Viruses can survive for several days on some surfaces such as metal. Metal play structures and public amenities could become contaminated with the virus, which could be transmitted to another person days later.
Residents are encouraged to use nearby paths and greenspaces while staying at least two metres away from other parks users. If a path or greenspace is busy, please move to a different area.
In an effort to maintain the cleanliness of our community, garbage bins will remain available. We encourage the public to use proper hand hygiene when touching these surfaces.