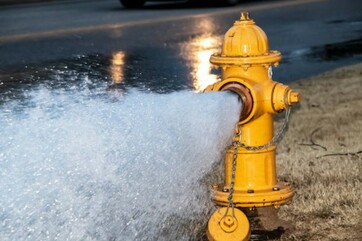 Water Main/Hydrant Flushing
Please be advised that the Town of Cardston is currently conducting our Hydrant Flushing Program.
If you see a crew flushing a hydrant on your street, avoid running tap water and using the washing machine or dishwasher until the flushing is done. If you see hydrant flushing crews working in the area, please treat them like any other road construction crew and drive carefully.
Some things to be aware of:
Check your tap water for discolouration in the morning
Your tap water may be discoloured by fine sediment particles dislodged from the main line. If you see discoloured water turn off the taps, and run the cold water only for a few minutes, allowing new water to work its way into your pipes. If the water is still unclear, repeat this process. In some cases, there may be slight discoloration for a few hours. The discoloration affects only the appearance of the water; it does not affect water quality. There are no health hazards associated with discoloured water.
Avoid washing laundry until water runs clear at the tap. The municipality is not responsible for discoloured or stained laundry.
If pressure or volume seems low, check your faucet screens for trapped particles.
For questions, please contact Curtis Kerr (403-653-3366) or email at Curtis@cardston.ca