View All News
FREE VIEWING - Kímmapiiyipitssini: The Meaning of Empathy
March 17 2022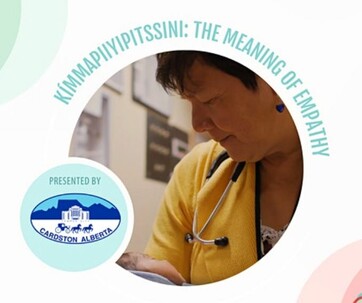 This well-received documentary filmed and produced by Elle-Máijá Tailfeathers, who was born in Cardston, is again being offered to the public for a free viewing online until March 28th. 
To view the documentary, click this link to register for the film:
WATCH Kímmapiiyipitssini: The Meaning of Empathy

When you register for this event, an email will be sent to you with a private link to stream the film online.
About the film:
Kímmapiiyipitssini: The Meaning of Empathy is a co-production between Seen Through Women Productions and the National Film Board of Canada through their North West Studio. The film follows filmmaker Elle-Máijá Tailfeathers as she creates an intimate portrait of her community and the impacts of the drug poisoning epidemic. Witness the change brought by community members with substance-use disorder, first responders and medical professionals as they strive for harm reduction in the Kainai First Nation.
Contextualized in the historical and lived trauma of settler colonialism, Kímmapiiyipitssini: The Meaning of Empathy draws a connecting line between the impacts of colonialism on Blackfoot land and people and the ongoing substance-use crisis. The film asks the audience to have love and hope for those who are marginalized by addiction and racism.
This film is the winner of the Rogers Audience Award for Best Canadian Documentary at Hot Docs Festival and was selected as one of the best documentaries of 2021 by POV magazine.