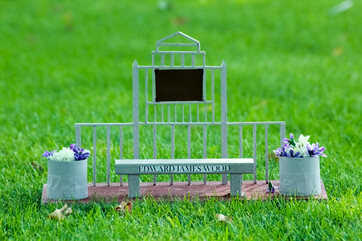 After a somewhat lengthy hiatus, fund-raising efforts are resuming for the proposed EJ Wood Memorial across the street from the High School. 

Edward James Wood was a prominent individual in Cardston. He served as President of the Alberta Stake from 1903 to 1942, during which time he founded both Glenwood and Hill Spring, and he was the first president of the Cardston Alberta Temple (1923-1948), a position he held simultaneously with his position as president of the Albert Stake for a time. 
In 1958, a school named in his honour was built across the street from the current high school, this is the location where the proposed monument will be erected. A sign currently marks the spot where the monument will be built. 
The monument will be erected in phases as donations are received, with the first phase being the construction of a concrete pad, and the installation of a stone bench similar to the "I love to see the temple" bench up the road. The bench will bear the name of Edward James (EJ) Wood. Other phases of the proposed memorial will be completed as donations are received, including planting pots that will be installed beside the bench, and eventually a steelwork in the shape of the temple that bears a plaque with information about EJ Wood.
Donations can be made at the Town office, or by sending an e-transfer to pay@cardston.ca. All donations will be eligible for a charitable donation tax receipt.