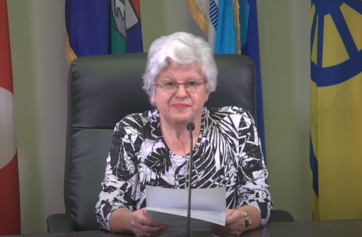 Dec 15, 2021 Letter to citizens
Dear citizens,
Today, I will give you some update on Covid related items as well as some Council update.
Covid related items
The pandemic is not over, and according to AHS we face the unfortunate prospect of another wave of Covid-19 including the Omicron Covid variant of interest. To avoid further spread of the Delta variant and the spreading of the Omicron variant that has now been detected  in Canada and in our province, AHS still recommends vaccination including booster shots as a first line of defense along with self-distancing, 6 feet apart, masking, frequent hand sanitizing , staying home if feeling sick and avoiding gathering in poorly ventilated spaces. 
The Cardston Health region is now out of the 4th wave, but it has not been without more casualties to the disease. We want to extend our sincere condolences to all the families who have lost a loved one to Covid and wish all those still sick a full recovery. We recognize the great work of our first aid responders, our medical staff, doctors and nurses who have been stretched to the limit these past few months. Thank you for your services of compassion in those difficult and rather unpredictable times.
Today, amendments to the gathering restrictions came in to place which are intended to allow for more family gatherings over the Christmas break. Effective today, indoor private gatherings can be up to 10 adults, with no limit on the amount of children at the gathering. Please continue to be vigilant at these gatherings.
We have had some feedback about how this may impact recreation programming in the community. Keep in mind that the changes mentioned are only for private gatherings. Right now, public facilities are still subject to either the 1/3 capacity restriction or the Restriction Exemption Program (REP).  Any adult recreation must be under the REP, and any recreation which is a combination of adults and children must follow the REP for all participants 12 and older. This, to our current knowledge has not changed. This is why programs such as public skating, which will start this weekend, is currently under the 1/3 capacity program and is for youth only. Town staff will continue to work with AHS and implement new or expanded programming as it is approved.
The Town Council and staff want things to get back to normal as soon as we can. But in the meantime, and until the old programming is allowed, please be patient and grateful for what we can put in place and offer for the community.
Council's issues.
BUDGET
I am very happy to report that at our last Council meeting, on Tuesday Dec 14, we approved the operational budget for 2022 to 2024 and the capital budgets for 2022 to 2026. Council thanked our Administrator and his finance Team for the excellent presentation of the upcoming year's budget and for having manage to present Council with a balanced budget based on a 2% inflation rate. Our Town is in a solid financial position. Due to wise decisions from past councils in protecting our MSI (Provincial transfers), we will be able to move forward in 2022 with large capital expenditure projects such as the upgrade to the Sewer Plant by leveraging moneys through Provincial matching grant. We will also have some extensive Public Works projects during the Spring and Summer of 2022.   
Reserves in the Golf account will allow for the construction of a new clubhouse in 2022, and reserves in Parks and Rec will fund various projects from the Rec Master Plan as well as replace needed pieces of equipment for the Ice rink.
The budget is not set in stone. It is a provincially mandated document and by its nature it is a living working document that will see various changes until the time comes to set the Mill rate in April 2022.
ASSESSMENT
Morgan Strate of Benchmark Assessments gave our new Council a presentation on Assessment. His comments regarding the trends in assessment was an eye opener. The real estate market was very busy during the pandemic since March 2020. His estimate is that assessments will be up across the board around 5% for 2021 and expected to be much higher in 2022. We will keep you posted in the Spring when assessments will be presented at Council.
ICF (Intermunicipal Collaborative framework)
Council were please to receive in the Chambers a delegation from the County composed of Reeve Bullock, Cllrs Bevans, Cllr Nish and Cllr Jacobs for their cheque presentation to the Town in the amount of $137,000. This officially concluded the ICF negotiations that lasted almost 2 years. These negotiations offered both municipalities the opportunity to work together, explore old grudges, and set the tone for healthier and more collaborative relationships.
STORM AND DAMAGES
As many of our properties in Town, the Town also sustained some substantial damages in various locations such as the cemetery, the tennis courts, the Agridome.  We lost many trees through the Town, but considering the gale force wind, we did not have any loss of lives and overall relatively few major issues except for the loss of a business on the West Side. Thank you for all the volunteers who did a superb clean up job along the Waterton Hwy in helping this business owner.
NEXT COUNCIL MEETING
Dec 14th was the last Council meeting for the year and will resume their activity on January 4th with the Council Committee of the Whole.
As Mayor, and on behalf of Council, I wish you all a Merry Christmas and all the best in the New Year!
Be safe and enjoy this festive Holiday!
Always at your service,
Mayor Maggie Kronen