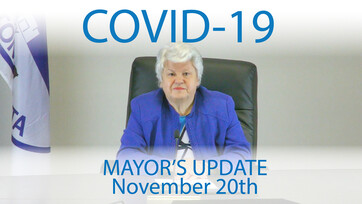 Dear citizens,
Nov 20,2020
In this release, I will give you some Covid-19 update and related items.
As you follow the news on Covid 19 for Canada and Alberta various health zones, you would be aware that numbers of active cases are rising at a very quick rate. Front line workers in hospitals are concerned about the increase number of hospitalizations and of acute cases, worried that they may soon reach their capacity to offer proper care to all who need medical attention and forcing further delays in scheduled surgeries. This should  obviously be a serious concern to us all.
The good news is that we can help the system not become overwhelmed  by taking simple preventive steps such as proper washing of hands and/or sanitation, keeping our social distance, reducing the size of our social circle, limiting contacts and wearing masks where and when deemed necessary. As per AHS guidelines, 3 ply masks are considered more efficient in trapping airborne droplets, limiting contamination from individual to individual.
The American Thanksgiving is a weekend away and Christmas just over a month from now. Many families will have their young adults coming back from various Canadian and American Schools of learning. Help them follow proper AHS  protocols to protect themselves and those around them. We all want to celebrate these meaningful holidays with friends and families, but let us be reasonable as to  the size of our gatherings. I urge you all to protect yourself, your family, your friends and our communities by following  Alberta Health recommendations and guidelines. We are all frustrated by the insidious way Covid-19 transmits in our communities. Covid -19 does not sleep nor slumber, and is no respecter of persons. So, our best defense is to use preventative measures on a daily basis and to avoid complacency.
As of today Friday 20th, 3 PM, in the South Health Zone we had 20 active cases with 4 declared on the Kainai Reserve and 16 cases  between Town and County. Fortunately, we do not  have any new casualty from Covid-19,  but we are back on the AHS watch list. We sincerely wish all affected with Covid-19  a speedy recovery.
And now a word of caution: Please remember that It is not appropriate to seek after the names or place of residence of those infected. AHS protects the privacy of its clients and so should we.  Be mindful and compassionate towards those who are ill.  Let us also do the right thing by not spreading false information through social media. AHS track where the outbreaks are. Parents will always be informed if their children's school is on the watch list and the number of cases involved. The list is published on the AHS site. If you do not have permission or a confirmed source of information, do not publish incorrect or false information. It upsets the population at a time when we all need hope and reassurance.
Together we can look forward to our celebrations with anticipation and hope, but it will require some self discipline on our part.
Be safe, be kind  and stay healthy! And to all our American Cardstonites, Happy Thanksgiving!
All the best to you all,
Mayor Kronen