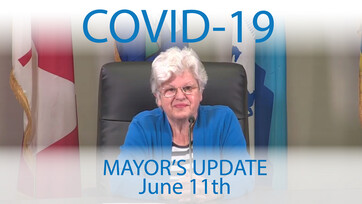 Letter to citizens         
June 11, 2021
Dear citizens,
As we look back on this week, we wish to join with our Muslim community members in mourning the tragic event that occurred in London, Ontario. Our thoughts are with you and we hope that you feel welcome and safe in this community.
Today, I am glad to announce some good news story.  Our active cases are way down for the Cardston Kainai Health region and for this we can rejoice collectively.
As of this Friday, June 11, 2021 we have 6 active cases for a total of 1027 since the beginning of the pandemic with 17 casualties to the disease for the same period.
Thank you all for your efforts towards this encouraging result. We are indeed seeing the light at the end of the tunnel, but we still need to exercise caution for another while. According to the medical researchers, it is becoming more apparent that this virus will be with us for a long time to come and that we will have to learn to live with it.
Vaccination numbers are up and hospitalizations due to Covid 19 are down. These are also good signs allowing Alberta to enter Stage 2 reopening since yesterday, June 10th. This means that 60% of the eligible population 12 years old and up have receive at least 1 dose of vaccine and that hospitalizations were below 500 in the Province.
Here  are the new changes to the previous restrictions:
Outdoor social gatherings – up to 20 people with distancing (indoor social gatherings still not permitted)
Indoor recreation, entertainment and other settings (rec centres, arenas, casinos, cinemas, theatres, museums, galleries, libraries, etc.) – open at 1/3 of fire code occupancy
Gyms and fitness studios – open for solo and drop-in activities and indoor fitness classes with 3 metre distancing
Funeral services – up to 20 people, indoors and outdoors (receptions permitted outdoors only)
Wedding ceremonies – up to 20 people, indoors and outdoors (receptions permitted outdoors only)
Places of worship – 1/3 of fire code occupancy
Personal and wellness services – resume walk-in service
Post-secondary – resume in-person learning
Restaurants – 6 people per table max, indoors or outdoors
Retail – 1/3 of fire code occupancy (must maintain ability to distance)
Youth activities (day camps, overnight camps, play centres) – resume with restrictions.
Youth and adult sports – resume with no restrictions, indoors and outdoors
Outdoor public gatherings (concerts/festivals) – up to 150 people
Outdoor fixed seating facilities (grandstands) – 1/3 seated capacity
Work from home order is lifted but still recommended
Distancing and masking requirements remain in effect
We will continue to keep you updated on our website as to events that will take place in our community in weeks and months to come. For example, next Saturday a ceremony will take place with the CHS First Nation students, elders and members of Council and invited guests for the unveiling of the Niitsitapi Monument to honor the loss of students in residential Schools and in memory of the women and children victims of the Baker Massacre in Montana who have survivors on the Kainai reserve.   In the light of the recent discovery in British Columbia of the 215 bodies of residential school children, the unveiling of this monument, at this time, in our community is extremely meaningful. What our local high school students envisioned with this monument 3 years ago is even more important today.
AHS has approved this activity and it will be invitation only to keep the numbers down with proper distancing. We will have a You-Tube link on our website so that all who want to participate in the live stream will be able to do so. Thank you for your understanding.
With regards to the pool and spray park. The spray park is open with a maximum of 10 with social distancing. We are looking to open the pool for regular lessons and public swim for phase 3 of the re-opening. This continues to develop and change, so keep an eye on the Town web site for the most updated information.
Please continue to follow the AHS protocols to keep yourself, your family, friends, and communities healthy.  We all want to see Stage 3 reopened and start to live a more normal life before the summer is over. If you have not done so already, please consider getting your vaccine. First doses are available very quickly right here in town.
Be safe, enjoy the outdoors and continue to extend your acts of kindness to those in your neighborhood that need some cheering up.
Always at your service,
Mayor Kronen