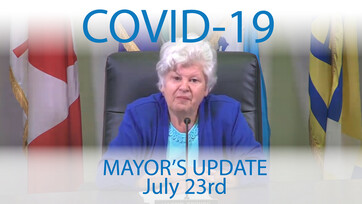 July 23, 2021
Dear citizens,
It has been a few weeks from my last release in June. Today, I will give you an update on Covid and non -Covid related matters.
Covid 19 in our Health Region.
We awaited with great anticipation the lifting of Covid 19 restrictions by the Government. On July 1, masks were no longer mandatory and all businesses and services could be reopened to the public.  In Town , the pool can now function at full capacity as well as the water park and all other outdoor rec facilities in Town.
Just a word of caution for us to enjoy the full summer without new restrictions.  First of all, let's face it: for now, we need to learn to live with Covid in our midst. Covid-19 restrictive measures have been lifted by the Government of Alberta and the Government of Canada is slowly reopening the borders for travel to resume. These are political measures to re-establish lost freedoms for all. However, Covid-19 variants are still well alive in the region and the weekly increase of active cases in our South Zone region is a sure indication of that fact.   Until active cases are fully eliminated,  I would suggest that you follow posted safety measures such as self distancing and/or mask wearing and hand and cart sanitizing when you go shopping.  Furthermore, remember that outdoor gathering is much safer than indoor gathering when it comes to transmission of the disease.  Use caution at all time, and since the medical evidences point to the fact that non-vaccinated people are more likely to be infected by the variant, take time to reflect on that fact if you are not yet vaccinated, and maybe if still hesitant, talk with your doctor and/or spiritual leaders to help you make the best decision for yourself.  Herd immunity requires no less than 80% of fully vaccinated eligible individuals. This is how we all stand a chance not to see that 4th dreaded wave of pandemic as is now witnessed in many parts of the world.  I trust that you will continue to do your best for yourself, your family, your friends and your community.  Thank you for all you deed to help us enjoy these long awaited freedoms.
Non-related Covid issues
The Hail !
Yes, on July 6, in the late afternoon, a hail storm settled over our town, plugging storm water mains and causing a serious river through our Main Street and area.  I want to thank our businesses and their owners for showing such resilience dealing with such flooding of their premises and their desire to reopen swiftly for the benefit of their customers.  I want to thank the Town's public work crew who came to the rescue with heavy equipment to move the ice from blocking the drains. I want to thank all the volunteers who came at the rescue to help businesses and residents with their flooding issues. Thank you, Cardstonians, you are the best! These businesses have seen a lot this year and as the merchants are quick to say, we can help them by shopping local. Let's help them!
Safety and Security
It has come to Council's attention that a serious assault incident occurred recently in our Town, seriously harming one of our citizens. We wish this citizen a prompt and full recovery. We do not condone any act of violence in our Town. The police are actively investigating this serious crime.
As a word of advice: If you see or experience something unusual around your house or neighborhood, call the local detachment or 911. If you experience disturbance at night or any other time of day, call the RCMP. Please do not take matters into your hands, you may get hurt.
As Summer progresses, remember to lock/secure your personal possessions and do not leave anything enticing in plain view, in your unlocked car or on your unsecured property. It is an invitation for theft and petty crime.  Be safe!
Upcoming festivities
Councillor Brown and her Committee have worked very hard to offer a full slate of fun activities for Heritage Week from Aug 2 to August 7, including a parade and fireworks. Check out the calendar on the Town web site for the most up to date times for the activities. Let us all play our part regarding Covid  safety measures and all this will happen for sure. It is time to have a bit of fun ! Stay posted! Next week, I will expound on the Heritage Week activities for all ages !
Enjoy your Summer, stay hydrated, be kind and caring to our Seniors and Shut-ins!
Always at your service!
Mayor Kronen