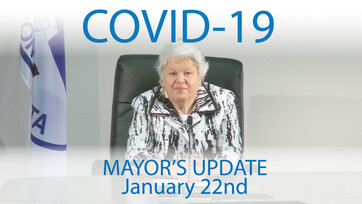 Dear citizens,
Today, I will address two topics, one related to Covid, the other, a Town's Matter.
One month has already passed since my last update regarding the pandemic. As you are no doubt well aware through the media, our Health Region has seen a serious gradual increase in active cases after the holidays. Alberta Health attributes this spike to intercommunity contamination. We are deeply mindful of the large number of our neighbors who are battling this disease and we wish all those affected in our Town, In the County and on the Reserve a strong and full .recovery. As of today January 22, 2021, we had 107 active cases and we are grateful not to have added to our list of casualties. 
We truly need to do our part to see these numbers go down in days and weeks to come. The message is still the same: Avoid unnecessary travel, large gatherings, house parties; wear your mask, keep your distance, wash and sanitize your hands often, stay at home if you do not feel well, get tested if you are concerned about your health. 
Vaccination has started in Alberta, this is a good thing. There is hope at the end of this dark pandemic tunnel, but it will still take time before we see the light; patience, kindness, compassion, calm and diligence will get us there. Let us continue to follow Alberta Health Guidelines as tiring, restricting, and frustrating as it might be. It will help us return to a normal state of the economy much faster and allow small businesses and their employees not to face a painful future. Together, we can make a difference! 
Town Matter
It is with deep sadness that we are announcing the sudden and unexpected passing of our Director of Infrastructure Services, Mr.  Bart Atwood. Bart has been a long time employee of the Town. He served the corporation for the past 22 years and kept our Water and Sewer treatment plants in perfect working conditions. In addition, and for the past 5 years, Bart also assumed a managerial position over all departments, keeping them running at their best. Bart was an accomplished employee, always learning and improving his skills and abilities for the benefit of the organization. He was trustworthy, a man of integrity, reliable and hard working.  He loved his job and was highly respected by his co-workers and many tradespeople he came in contact with. 
Bart was truly a humble man, true to his faith and seeking day by day to do good. He will be sorely missed by many who came to know him and love him as a mentor and friend. He will be remembered for his happy countenance and gentle demeanor. We lost a true gentleman, a friend to so many.  Our sincere condolences to his dear wife Gloria and his beloved children. At Bart's request, there will be no funeral service.
So long, Bart! God speed!
Be safe and stay healthy.
Always at your service,
Mayor Kronen