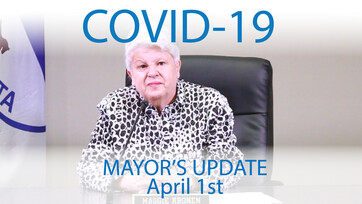 April 1, 2021
Dear citizens,
Today, we can all feel a bit more optimistic for our Cardston-Kainai Health Region.  Numbers are stabilizing or going down depending on the day of the week. Total number of cases since the beginning of the pandemic reached 778 cases and we have 60 current active cases as of Thursday AM, April 1, 2021 Unfortunately, this past week, we registered one more fatality due to Covid bringing the total number of deaths to 14.  Our sincere condolences to the family. We sympathize with your grief and loss.
Easter, Passover, Ramadan all are spring festivities that take place in the Early Spring. People would love to gather and celebrate, however, I would ask you to be careful and continue to follow the AHS Protocols for your own safety and the safety of other around you and your community. The UK Covid variant is well and alive in our communities, and as you know, it has the unfortunate capacity to transmit much more rapidly than the original virus.
So enjoy the outdoors while the weather is clement and play it safe! Happy holidays to you all! It is indeed a special time of the year when we all strive to connect with the Divine.
So stay safe, and if you are in the age group that can be vaccinated, and if you feel so inclined,  take advantage of it by booking an appointment with AHS or by phoning 811. If you can help an elderly to a vaccination center, this would be a great service to them.
On another topic: The rec Center
Council is a hard working group, and we do not always have the same views on the same topic. Decision making, although a frustrating process, is a necessary part of seeking clarity when you intend to spend taxpayers money, except that sometimes we may not have a clear understanding of each other's intent moving forward, and the motions made may not always clearly say what they should.
In the local paper, 2 motions were mentioned and the two of them may not have been very far apart in their intent. Let me explain, the first one addressed not approving a capital project in 2021 for the building of which we still did not have definite numbers and prior to full exploration of the other capital priorities of Council at budget time. This motion was defeated because It was interpreted by some as to kill the project once and for all and remove all reserves towards a rec facility.  That was, however, not the true intent.
The second motion had for true intent to protect the 1 Million dollars reserves to allow for matching fundraising, with the intent to build a rec center,  except that the motion was technically flawed because it referred to and  gave life to a capital project that no longer existed as a capital project in the January 2021 Budget. On the following day, our Administrator was quick to make Council aware of our need to fix the governance issue.
In the Special Meeting of Council, of March 30, 2021, and after reviewing our proceedings regarding these two motions, and upon understanding what each Councilor's vote meant to him or her, it became apparent that we agreed on a lot more than we thought. 
To correct the error and its unintended consequences, Cllr. Selk rescinded his original motion and replaced it with a motion that dealt strictly with the approval of 1M dollars reserves for a future Recreation facility. Folks, the vote was unanimous to protect reserves for a future rec facility capital project. This will now allow Administration and other entities to find "Symbiotic partnerships" and to discuss all parameters for such future facility, including a business plan and final costs.   
As Mayor, I want to congratulate all members of Council for having taking this governance challenge seriously. Yes , we are not perfect, but we are willing to work together to make things right. March 30, 2021 was a very good day for Council, governance  and the democratic process.
All the best to you all at this Easter Season! Happy Easter!
Always at your service