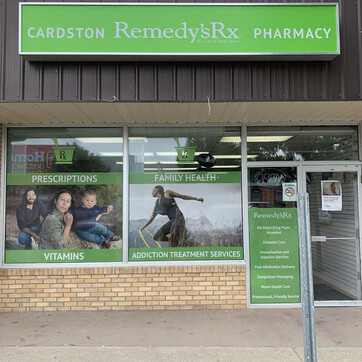 Congratulations to this week's featured business, Cardston Remedy's RX Pharmacy!
Address: 321 Main Street
Phone: 403-659-1100
Your local pharmacy®
Guardian, I.D.A., and Remedy'sRx pharmacies are independently owned and operated by local pharmacists who dedicate their practice to the best possible patient care – beyond just prescriptions. With over 1,400 locations coast to coast, both in urban and rural areas, our pharmacies reflect the values of the communities they serve. Each pharmacy is unique, but they all are united in the pledge to uphold what being an independent pharmacy stands for – empowering patients to live a healthy life by providing unrivaled, compassionate, holistic health care.
I.D.A. has provided exemplary care to patients since 1932, when the Independent Druggists' Alliance (I.D.A.) was first established in Canada. The Guardian pharmacy banner was added in 1964 with the same unwavering commitment to the profession. Over the years, both have become trusted names in pharmacy and have garnered tremendous loyalty from their patients. Remedy'sRx was founded in 2006 with a commitment to building relationships with patients and offering personal attention unmatched by larger chains. Remedy'sRx joined Guardian and I.D.A. in 2015 and together the three brands continue to grow as their independent owners share a devotion to creating healthier communities from coast to coast.

Guardian, I.D.A., and Remedy'sRx belong to a family of banner brands under the McKesson Canada Retail Banner Group. McKesson Canada is in business for better health. We play an integral role in health care, and we have a unique vision for the future. We partner with insurers, hospitals, physicians' offices, pharmacies, pharmaceutical companies and governments across the spectrum of care to build healthier organizations that deliver better care to patients in every setting.