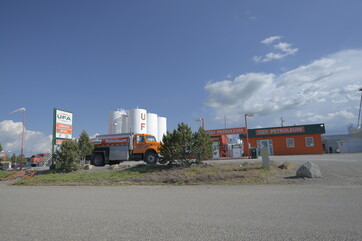 Congratulations to this week's featured business, U.F.A. Cooperative Limited!
Address: 1058 - 1 Ave. W.
Phone: 403-653-3742
Proud to serve over 120,000 member-owners.
Founded in 1909, UFA is one of Canada's largest and most dynamic co-operatives and has grown from a small-scale local co-operative into an extensive commercial and retail operation.
We are a progressive and diversified business that provides the products, services and solutions our owners and customers in rural communities need to successfully run their operations. Our members guide our decision-making and are rooted in the heart of all we do.
Although we have grown and changed over the years, at our heart we remain committed to rural life. That commitment inspires everything we do and is reflected in our vision, mission and values.
OUR BUSINESS
Since our very beginning, UFA has continuously adapted to changing times and technology by expanding our product and service offerings, and our geographical footprint, so that we can provide you what you need when and where you need it.  
Today, our business network provides products, services and solutions to farmers, ranchers, members, consumers and commercial customers in Western Canada.