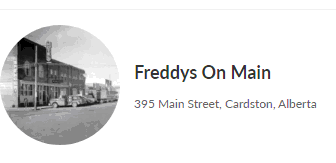 Congratulations to this week's featured business, Freddie's on Main!
Address: 395 Main St.
Phone: 403-892-6736
Freddy's on Main is a new multi-functional rental space on Cardston's historic Main Street, where history, functionality, and family converge. Run by Pam and Derick Heggie, the building was purchased mainly to function as a space for Pam's High Fitness classes, but also quickly became part of her desire to keep her late father's memory alive, honour other families who had passed on, while becoming a crucial part of the beating heart of Cardston's community.