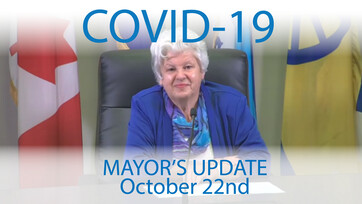 Letter to citizens – October 22, 2021
Dear citizens,
I will give you a Covid 19-update as well as non-Covid related items
It is with some relief that I can announce that we are flattening the curb of the 4th Wave of Covid-19 illness that violently hit the Cardston-Kainai Health region. As of October 21, we had 84 active cases and  very sadly, the number of Covid related deaths climbed to 31. To all the families of loved ones who passed away to this unforgiving illness, we offer our sincere condolences and wish a strong recovery to all those who are affected. On a more positive note, AHS reported that the percentage of individuals eligible to be vaccinated in our health region is near 80%. I will urge all to continue to be vigilant and follow all safety measures to avoid being infected by this dreadful disease.  Furthermore, AHS also announced that Covid-19 booster shots are now available to those eligible as well as flue shots for the whole population. Please consult with your physician if necessary and make the necessary appointments with local pharmacies and/or the local health center to receive your immunizations. Thank you!
This past Monday, the voters have cast their ballots and a new Council was elected composed of 2 incumbents Mrs. Paula Brown and Mr. Tim Court and of 4 newcomers, Mr. Allan Burton, Mr. John Grainger, Mrs. Marsha Jensen and Mr. Jared Kenly.  Thank you all for your votes.  The next month is going to be very busy for us all.
To those who have not been re-elected, please know that your services have been much appreciated. We wish you all the best and encourage you to continue serving your community.
To those who sought office for the first time and did not make it, we thank you for your courage and desire to serve this town.
We will have of first organization meeting this coming Tuesday, October 26 and all members of Council will be sworn to office. Our first regular Council meeting will follow.
We will then start a series of training on Municipal government starting on November 10 here in Town and we will be joined by councils and administration of the County, Glenwood and Hillspring.
We will then work on establishing Council's priorities in a Strategic Planning Session.
And on Nov 17 to 19, we will participate in the AUMA convention in Edmonton. It is a time to learn and create relationships with follow councillors, as well as understand the trends at the provincial level.
It is a new beginning for us all and we are all energized to serve you to the best of our abilities and make the best decisions for our town.
Always a pleasure to serve you.
Mayor  Elect
Maggie Kronen