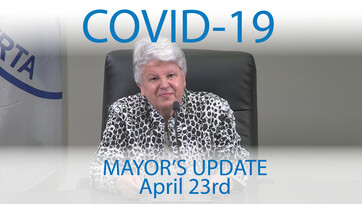 April 23, 2021
Dear citizens,
I want to thank you all for your diligent effort to flatten the  curb of the Corona Virus . We presently have 38 active cases for a total of 860 cases since the beginning of the pandemic. Unfortunately, this past week we added one more casualty to the disease for a total of 15 deaths in our Cardston-Kainai Health region. Our sincere condolences to the family for the loss of their loved one. Please continue to follow good hand hygiene, keeping 6 feet apart and wearing a mask when required and avoiding parties and large gathering. And  continue to take advantage of the vaccination clinics, this will slowly lead us back to a more normal life.
At this time, I want to publicly thank the Blackfoot Confederacy and the Blackfeet Nation for their generous gift of Covid-19 Pfizer and Moderna vaccines that was made available to the Town of Cardston and County as well as to the Blood Tribe.
Such gift of health and protection has been truly appreciated by those who took the trip to the Peigan border. The set up at the border was well organized, inviting, professional and personal. As one of the recipients, I personally benefited by this generous offer.
May all of the neighbouring Indigenous agencies or personnel involved in setting up this vaccination clinic at the Border be recognized for their goodwill towards their neighbors during this Covid pandemic.
May we emulate in our daily actions this same generosity of spirit towards our First Nations neighbors.
Always at your service,
Mayor Kronen