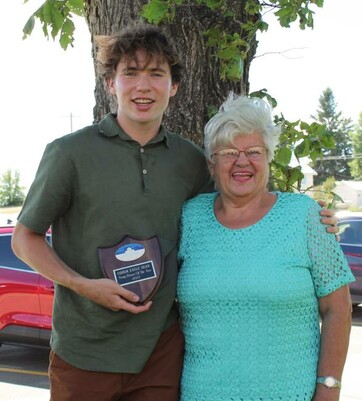 Cohen Eagle Bear - Young Citizen of the Year 2023.
Cohen Eagle Bear is a young man who is 16 years of age and ready to start Grade 11 at Cardston High School. He has been nominated for the Youth Citizen Award of the Year for his contribution to his school and the Community.
Cohen has been a trusted member of his school and was voted on Student Council by his peers starting in Grade 7 and again in Grades 8 and 9. He is an active participant in many school projects and events, always radiating his positive energy. As a continuous member of the Hope Squad since Grade 6, Cohen has demonstrated his leadership through love and compassion for his distressed peers, offering them hope and support without judgment. He may truly never know how many young people he may have helped or will touch through his kind words and attentive outlook.
When Cohen is not serving his peers at school, he may be found on the football field playing with his peers and developing strong bonds of trust and camaraderie. Cohen demonstrates these same traits when he works at the Carriage Theater, something he did last summer and this summer also. His involvement at the Carriage House Theatre has showcased his desire to serve his community in a meaningful way.
Cohen is an inspirational role model for peers and community members. As he matures and stays involved at school and in the community, Cohen will no doubt continue to be an influence for good for years to come.
Congratulations, Cohen, on being our Young Citizen of the Year! Well done!