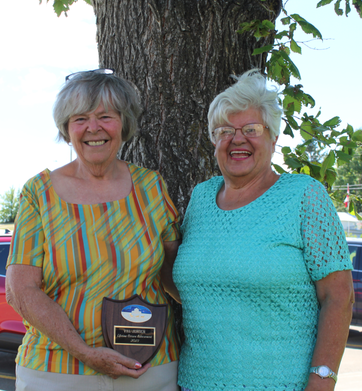 Val Jensen – Lifetime Achievement Award 2023
Val is an exemplary example of lifetime service! To set the stage for this award, here is a bit of personal information.
Val grew up in England. After moving to Canada, she completed her education in physiotherapy. She was placed in Cardston where she worked as a physiotherapist until her retirement about 10 years ago. She made Cardston her home and started serving in the community immediately.
Here are some of Val's service accomplishments that span over four decades.
Val has been a member of the Anglican Church since growing up in England. When she moved to Cardston, the only Anglican Church in the community was St. Paul's Anglican Church in the Moses Lake Community. That didn't matter to Val. She joined the congregation, served as a Sunday school teacher, and has served as the St. Paul's Anglican Church Women's President for over 30 years.
She first got involved with the Royal Canadian Legion with her husband, who was a Legion member for many years. Val has been a member of the Legion for more than 40 years and President of the Legion Ladies Auxiliary for over 35 years.
Val became involved with the Carriage House Theatre around 2001 when she would help her daughter, Jenn, with the lights. While helping Jenn, she expressed interest in assisting with other areas and started helping with the costuming. She has been helping with costumes and serving as CHT's costume mistress for about 20 years. Over this time, Val has gone the extra mile serving and helping people with their costumes, sewing, hemming, helping find costume pieces, and accommodating anyone needing her help. Val has served on the Carriage House Theatre Foundation board for the last 9 years.
More recently, Val got involved with the Festival of Lights shortly after they started building their beautiful displays. She became a member of the Committee a couple of years ago. But that is not all!
Val has also served two four-year terms on the FCSS Board for the Town of Cardston. Her first term was from 2007-2011, which she served as Board Chair during, and her second term was from 2014-2018.
Val's service to the community is tremendous, considering she also dedicates many hours to serve, advocate, and care for her mother, who is 102 years old, and who still lives in her own home in Calgary, and her brother, who is disabled and lives in a group home in Calgary. They both require Val to make many trips to Calgary to help them and arrange special care for their wellness.
Val is consistently putting others before herself. Everyone who knows her knows that she is a woman of integrity, a friend to everyone, and the kindest person you will meet. She is the embodiment of service and charity.
Congratulations, Val, on receiving our 2023 Lifetime Citizen Achievement award!