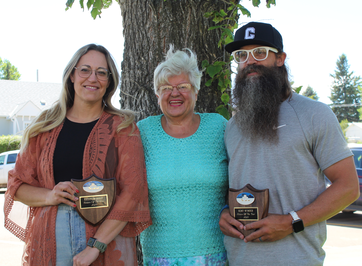 Kent & Kristi Wynder – Citizens of the year 2023
Kent & Kristi Wynder are true examples of what it means to be citizens of a community and what service represents. Their teamwork has shaped the people around them. Kent & Kristi are both leaders in sports and inclusivity in the community. They have helped children of all levels and ages be able to participate in baseball.
Kent is currently serving as a coach and as President of the Cardston Little League Baseball, something he has done for the last 16 years. Kristi is also currently serving with Little League Baseball, coaching T-ball and Coach Pitch, which she has done for the last 4 years. Year after year, they put in countless hours to help organize the league and teams over the years. Together, they are an amazing dynamic duo in this organization.
Kent also serves with the South Chief Baseball League where he helps organize different baseball teams from Cardston, Magrath, Raymond, Glenwood, and Hill Spring. He has been part of this league for the last 5 years. Kent has also coached the Cardston High School baseball team for the last 5 years.
Together, Kent & Kristi were successful in bringing the Toronto Blue Jay's Challenger Baseball program to Cardston in 2019. This year the program was very successful as they had more participants and volunteers. This program helps children and youth with physical and cognitive disabilities be able to participate in organized sports, meet new people, build relationships, and build self-confidence. For these kids who don't always get the same opportunities as their peers, this program has helped change lives. They have about 20 athletes and 40 volunteers in the program. During Covid, they were able to modify the program virtually, so these kids could keep participating. Kent has the High School baseball team and some of the older baseball players volunteer as "Buddies" for the Challenger Baseball athletes. This buddy system has been so successful that last year, even though some of the teenage boys graduated and participated in their grad activities all night, they still showed up to the game early the next morning as "they would not miss it for the world". Kent & Kristi's leadership in this program taught these boys what true service means.
Kent also represents Cardston for the Fort Macleod Royals where he has organized a Cardston Legion team. He not only served as the coach this year, but he also serves as their Vice President.
Kent & Kristi's reach does not stop at baseball. They are both very active in the hockey community and volunteer as coaches and running the score clock. Kent has been a coach for Minor Hockey for the last four years.
Kent & Kristi have also both participated in volunteering with Carriage House Theatre. They have both performed on stage together and Kristi has spent several hours volunteering her time to paint sets and help make props for different shows.
Last month, Kent helped fundraise for Epic Youth Services by participating in the Home Run Derby where he raised over $7,300.00 plus he was able to collect almost another $3,000.00 in donations totaling a fundraising contribution of almost $10,000.00 for youth programs in our community.
As individuals, this duo is incredible, but as a team, they are unstoppable!
Congratulations, Kent & Kristi, for being our Citizen Couple of the Year! Well deserved!