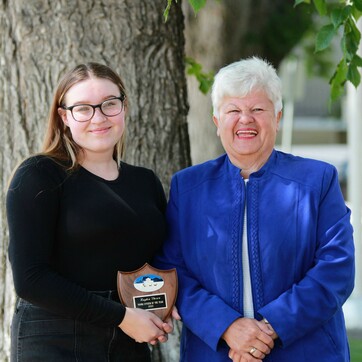 Rayden Thesen - Young Citizen of the Year 2022
If you know or have ever met Rayden, you will agree that her name suits her to a "T"!  Rayden, like her name implies, is a "Ray" of sunshine everywhere she goes!  She has an infectious smile that will always make you smile back.  She is a very vibrant young woman, and is such a wonderful role model for every age group.
Rayden was diagnosed with Type 1 Diabetes when she was only 3 years old.  Throughout her schooling, Rayden has been a huge advocate for people with Type 1 Diabetes in our community.  She started teaching her teachers and fellow classmates about the disease when she was in Grade 1 and was very patient when kids asked her questions about her disease.  Every year, she would explain her disease to her new teacher and new classmates.  Because she was the only youth in our community with the disease for such a long time, the schools were unaware of how to help students with the disease and what their needs are, so she worked with the schools and advocated for better policies to help students with diabetes.  Rayden was able to break down those barriers for other kids that have since been diagnosed with the disease after her.  She is always willing to answer people's questions and she has even helped mentor other newly diagnosed children in our community.
Rayden has helped raise awareness for World Diabetes Day and when she was in Grade 7, the Jr. High helped her acknowledge and honour the day by asking all the students in the school to wear blue that day (the colour associated with diabetes awareness).  Today, she still advocates for the awareness in our community.
Rayden's strength and resiliency is truly something to behold.  She is very patient and kind to those around her and always willing to help others.  She loves people of all ages and loves to share her talents and knowledge with others. 
Rayden is a wonderful girl who has given a tremendous amount of service in this community. She has especially been an integral part of the theatre world here in Cardston and surrounding communities and is always willing to share her talents as an actor and a singer.  She is very mature for her age and is always on time, pleasant, and professional.  When she is in plays, she is highly esteemed by other cast members and is always there to help and mentor, whether they be adults, teenagers, or children.  She is highly looked up to by her peers.  She has an eye for noticing those who need help and is always there for them. 
In 2019, Rayden entered "Chautauqua's Got Talent" and won 1st place!  This is a huge recognition for Cardston.  Everywhere she goes, she is known as the winner of Chautauqua. 
She is currently employed at Extra Foods as a cashier where she greets all of her customers with a huge smile and a big "Hello" that just makes your day better.
Rayden loves to give of her time and her talents.  She is an inspirational role model for her peers and community members.
Congratulations, Rayden, on being our Young Citizen of the Year!