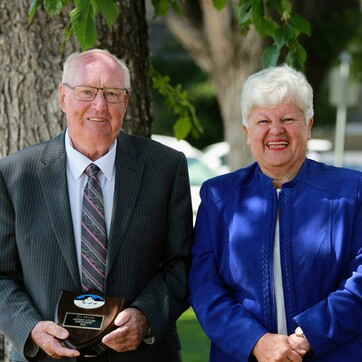 Vern Quinton - Lifetime Achievement Award 2022
For over 15 years, Vern has served on both the Cardston Handicapped Association and on the Remington Carriage Museum voluntary boards.  Vern has also voluntarily served for 6 years at the Good Samaritan-Lee Crest continuing care facility.
Vern's kindness, good sense of humour and willingness to lend a hand has earned him many friends.  Vern has always shown love and support to the aged and the handicapped, both vulnerable populations.
Over the years he has mown lawns for many in his neighbourhood.  He continues to shovel sidewalks and driveways.  Vern is often the first to help and the last to quit.  He loves the Town of Cardston!
Foremost, Vern has made a lasting contribution to our community as the Chair of the Library Board, a voluntary position he has held for more than 15 years.  He has continually suggested and supported initiatives that enabled the library to honour the past and build for the future. 
He has had a great influence on library staff and programming.  He has supported library staff to engage in many areas of professional development, such as computer software, data processing, assisting visually impaired patrons to name a few, as well as professional development in cross-cultural awareness, so that staff could better serve the members of the community. 
Vern supported community awareness programs including the invitation to the Sixties Scoop Indigenous Society of Alberta to do sessions in the community.  The engagement session provided an opportunity to listen to survivors, was respectful, and engendered inclusivity. 
With Vern as Chair, the Jim and Mary Kearl Library won two R.E.A.D. awards (Rewards for Excellence and Distinction).  One was for the library's SOCKS program, the collection and donation of new socks to various shelters and institutions, and the second was for Library Advocacy.  While also in the position of Chairman, Vern supported Little Free Community Libraries & Winter Pop-up Play.
Vern was also influential in helping the Jim and Mary Kearl Library become a library within a library.  A separate area was created to hold Alzheimer and Dementia resource materials as well as to host Alzheimer caregiver support group meetings.
Vern can be best described as an effective backstage motivator and supporter.  A driving force for good.
Congratulations, Vern, on receiving our Lifetime Citizen Achievement award!  Every time you change just one person's world, the effect has the potential to improve lives for generations.  Thank you!