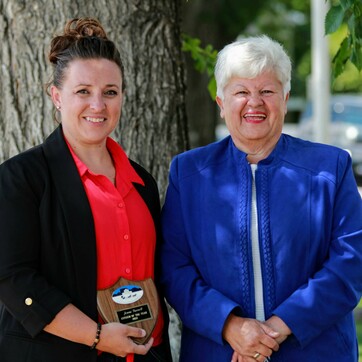 Jenna Farrell - Citizen of the Year 2022
Jenna is an amazing, extremely well loved, and respected individual who seeks no public validation despite her many contributions to our town and surrounding area.  She is a successful businesswoman; who has been with The Co-operators Insurance for 14 years and has recently taken a new role as a Sales Coach with the Co-operators Western Canadian Region this year.  She is continuing to grow by gaining extra education.  Jenna has also recently completed a financial designation as a Qualified Associate Financial Planner.  She accomplished this while working with Co-operators and providing respite care and raising her nephew, as well as helping other family members.  She spends many hours as a volunteer firefighter and medical first responder with Cardston County Emergency Services and is always willing to go and help where she can.
This year, Jenna was awarded the "Volunteer of the Year" award by Cardston Minor Hockey.  Every year, even during Covid the last 2 years, for the last 20 years total, Jenna has volunteered her time during the hockey season as a referee, not only in Cardston but in different rinks across southern Alberta as well.  
Along with refereeing, Jenna and her sister, Brook, also run the concession counter in the ice rink with the proceeds going directly back into the minor hockey program.  She makes an incredible breakfast sandwich, by the way, and her poutine with homemade fries rivals any other!
Jenna has served for 4 years on the Town's Parks and Recreation Advisory Committee and has served as their Chair for the last 3 years.
Jenna is the epitome of selfless love!  She is always willing to go above and beyond, not only for the people she knows but for perfect strangers as well. 
Jenna is very humble in her achievements and does not boast of her success.
Congratulations, Jenna, for being our Citizen of the Year!