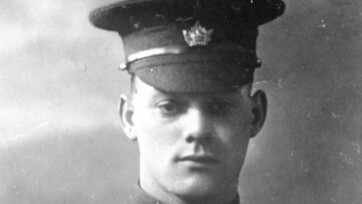 The Last Drop of Blood Spilled - Private George Price
As I reflected on this first post-pandemic Remembrance Day, and what I would like to share, a name of a soldier came to mind that reconnected me to Belgium, and its liberation by Canadian Soldiers during the First World conflict.
Today, I would like to honor Private George Price, the last Canadian and Commonwealth soldier to fall in the First World War on Belgian soil, in the town of Ville-sur-Haine, 2 minutes before the armistice was officially proclaimed on Nov 11, 1918 at the eleventh hour.
At 7 am that morning, Private George Price and his Canadian Battalion marched in the main square of the Town of Mons as liberators to booming shouts of acclamation from the assembled population. Surrounding towns and villages still needed to be cleaned up from enemy presence. That was his duty that day. Sadly, 3 hours and 58 minutes later, in the nearby Town of Ville-sur-Haine, Private George Price would lose his life, gunned down by a single sniper bullet.