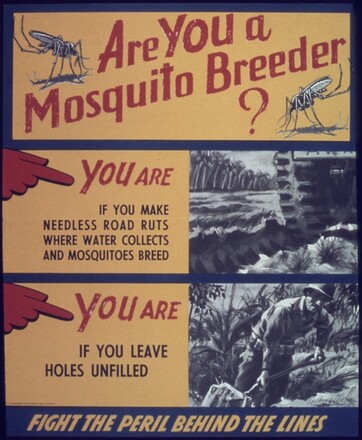 Mosquito Control with Malathion
As the warmer seasons progress each year, it is expected there will be periodic spikes in the mosquito population that will likely merit fogging with malathion. An ongoing concern is how to can the municipality provide residents with sufficient notice of when fogging will occur so they can shut their windows and stop their A/C units to keep the malathion out of their houses. Because fogging depends on so many factors like temperature, wind speed, precipitation, and more, it is difficult to provide appropriate advance notice. In order to address these concerns,  malathion fogging will only occur on Tuesday evenings from 11 PM to 1 AM as needed. If fogging is to occur on a different date, the change of date will be advertised on the Town's website, Facebook page, and using the Message Express system.
We know that this is a quite controversial and complex issue with many stakeholders and variables to be considered. Hopefully we can arrive at an arrangement that will satisfy most.
The Town may be spraying, or fogging, certain areas with a pesticide called Malathion ULV (Ultra Low Volume) to control the mosquito population throughout the summer as needed. Application of Malathion can only occur on days that fall within a certain range of heat, moisture, and wind so the exact day and time of the applications is always uncertain.
We encourage all Town residents to educate themselves regarding Malathion ULV in preparation for application so that all residents and households in Town can keep themselves safe while spraying is ongoing. We have assembled a short list of government prepared documents that explain how Malathion works, the potential dangers to humans, and how to stay safe at the bottom of this page. 
To ensure your health and that of your family, please stay away from the applicator while adulticiding is taking place. If you have respiratory problems, allergies, small children, or if you are pregnant or nursing please stay inside with the windows closed and the A/C shut off to avoid breathing in the airborne pesticide. If you are concerned about Malathion ULV fogging near your residence, please let us know and we will plan our fogging route accordingly.
Information on Malathion
On November 8, 2012 Health Canada's Pest Management Regulatory Agency (PMRA) released a summary of their decision to grant continued registration of insect control products containing Malathion. The PMRA has made it clear that as long as malathion is used with care and due caution for a strictly defined range of purposes, it will not pose unacceptable risks to human health or the environment. Toxicology studies cited by the PMRA in their summary show that in laboratory settings adverse health effects become apparent in animals at doses more than 100-times higher, and often much higher, than levels to which humans are normally exposed when malathion products are used according to label directions.
Malathion operates by attacking the nervous system. In mosquitos and other small insects relatively small does are enough to cause their nervous system to cease operating. Overexposure in animals and humans may produce a variety of symptoms including (but not limited to) nausea, dizziness, sweating, incoordination, vomiting, abdominal cramps, and diarrhea. Young animals have shown to be more sensitive to some effects of malathion.

The PMRA has declared that "residential risks from the use of malathion on vegetable gardens, ornamentals, and in mosquito abatement programs are not of concern." They have specifically allowed malathion to be used in residential areas where bystanders could potentially be exposed by inhalation or by residues left on turf.
The tests, studies, and evidence the PMRA has utilized in rendering their decision has included the use of malathion around the most sensitive members of a community, including nursing mothers and children. However, to minimize exposure, the Town of Cardston still suggests that you stay inside with the windows shut and A/C off until the malathion fog has dissipated after being spread near your residence if you have severe allergies or breathing issues, are pregnant, are nursing, or have very small children.
Links
The first three stages—egg, larva, and pupa—are largely aquatic. These stages typically last five to 14 days, depending on the species and the ambient temperature.... Bloodsucking mosquitoes, depending on species, gender, and weather conditions, have potential adult lifespans ranging from as short as a week to as long as several months. (Wikipedia, Mosquito)